Neil Gaiman's legendary series is back in DC's Absolute Edition format! From the birth of a galaxy to the moment that Morpheus is captured, THE SANDMAN: OVERTURE features cameo appearances by fan-favorite characters such as the Corinthian, Merv Pumpkinhead and, of course, the Dream King's siblings: Death, Desire, Despair, Delirium, Destruction and Destiny. This volume collects THE SANDMAN: OVERTURE #1-6 in its entirety together with a special presentation of the whole story's original, uncolored art by J.H. Williams III, plus bonus material and a new cover by Williams!
As with all AE format material (Artist's Editions, Artifact Editions, Gallery Editions, Art Editions, Studio Editions, etc.), this is a collection of classic comic material and I'll be reviewing the book and not the story. For a complete list of all current and announced editions, with review links, please visit our Index. Also, see What is an Artist's Edition and our Artist Index.
No, you're still at the Artist's Edition Index. This book is being looked at here because of the solicitation's "a special presentation of the whole story's original, uncolored art" that lulled me into the purchase. After the main story, we're presented with this.
THE SANDMAN: OVERTURE
THE ARTIST'S EDITION

Faced with the daunting task of bringing four-color life to Neil Gaiman's long-awaited return to the Dreaming, artist J.H. Williams III drew upon decades of hard-won comics and illustration experience to craft a tour de force of graphic narrative that could match the epic scope and phantasmagoric nature of Gaiman's galaxy-spanning saga. To highlight this achievement, the following section reproduces (from high resolution scans provided by the artist) every page of Williams' painted artwork for the series as it originally appeared before the addition of final coloring and digital effects.
Just from that paragraph we know this will not be an Artist's Edition, and so I take umbrage. For those in the sphere of comics, Artist's Edition is understood to be the presentation of original artwork. What's presented here are comic pages missing the final flourishes of digital colour, and as such, is in no way an Artist's Edition.
Apologies for the two lines of light glare on each image: I don't photograph glossy pages very often. As you can see from the images, they're missing "final colour and digital effects" but these are not original art pages. It's a stunning volume of an exceptionally well-drawn story.
We'll have to wait for the much delayed The Sandman: Overture – J.H. Williams III Gallery Edition from Graphitti Designs to see the original art pages.
Production is excellent, as with all Absolute editions from DC. Sewn binding, glossy pages, slipcase.
---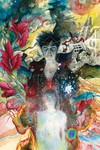 Absolute Sandman Overture HC
from Things From Another World