Alan Moore was the brain trust behind America's Best Comics, one of the most acclaimed imprints in the history of comics. Comprised of four main titles: Tom Strong, Top10, Promethea, and the anthology Tomorrow Stories, the ABC line paired Moore with the finest artists in comics. This volume will present a beautiful overview of the ABC line, including complete stories from Promethea #10 (Eisner Award-winner for best issue of the year) and Top 10 #7. Additionally, a fine selection of shorter stories featuring Tom Strong, Jack B. Quick, Splash Brannigan, and Greyshirt will be included. Plus a stunning gallery section. The best stories by the best artists in the best format!
As with all AE format material (Artist's Editions, Artifact Editions, Gallery Editions, Art Editions, Studio Editions, etc.), this is a collection of classic comic material and I'll be reviewing the book and not the story. For a complete list of all current and announced editions, with review links, please visit our Index. Also, see What is an Artist's Edition and our Artist Index.
A wonderful selection of America's Best Comics material, including my favourites Jonni Future and Jack B. Quick. It's an interesting mix from a lettering standpoint: Tom Strong 36, Top Ten 7 and Leap Of Faith from Tom Strong's Terrific Tales 4 include no lettering while the rest of the stories do. Not sure if the lettering was done with overlays or digital but this book seems to cross that era of the lettering transition.
There is a lot of material here, showcasing America's Best Comics' finest. The work is presented with issue cover and then interior art, if both were available. That is followed by a gallery of covers and a bonus one page Jack B. Quick. Since it's an anthology there is no closing biography page; a short history of America's Best Comics would have been a good fit.
The table of contents notes "Because of the varying sizes Arthur Adams draws at, some of the covers and stories have been reduced in size to fit our format". This is the second IDW AE to have reduced pages, after Charles M. Shulz Peanuts Artist's Edition.
These pages seem to come from a variety of sources, yet the scans are all very clear and without issue. All pages but two are scanned from the original art, and the two replacements are wonderful Sprouse pencils that fit right in. Blacks are fairly consistent, with gradients only showing in the Rick Veitch art. Little in the way of margin notes, but we do get a quick costume design by Ha, and some colour notes.
Another knockout design by Randall Dahlk. The colour choices are wonderfully harmonious, with clean usage of panel enlargements. No chapter breaks or separating pages, so we only get tables of contents for the issues and the gallery.
When solicited the book was offered with the Chris Sprouse Tom Strong cover or the "variant" J.H. Williams III Promethea cover. Oddly both were offered through Diamond at the same price point and solicitation date, a first for a variant cover. Looking in the indices it lists these as "Cover A" and "Cover B", so the same as the Marvel Covers: The Modern Era Artist's Edition.
Production is excellent. The usual Artist's Edition treatment, thick matte pages in a sewn binding. It's a thick book, and most pages lay open with a smoothing of the center. The book comes shrinkwrapped in a cardboard case, with a small colour sticker showing cover and UPC. It's the four tab cardboard case, and it's a tight fit but the case closes well after numerous openings.
---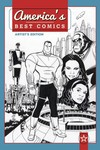 Americas Best Comics Artist Ed HC
from Things From Another World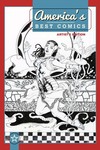 Americas Best Comics Artist Ed HC J.h. Williams III Variant
from Things From Another World