BATMAN: KELLEY JONES GALLERY EDITION is the first in a series of deluxe, hardcover books from Graphitti Designs that faithfully reproduces the original art from select, key DC Comics series. This inaugural volume contains the covers and interior pages from BATMAN #515 through #525, minus the interior of issue #520, which Kelley did not draw. These stories are written by Doug Moench, with most pages inked by John Beatty.
As with all AE format material (Artist's Editions, Artifact Editions, Gallery Editions, Art Editions, Studio Editions, etc.), this is a collection of classic comic material and I'll be reviewing the book and not the story. For a complete list of all current and announced editions, with review links, please visit our Index. Also, see What is an Artist's Edition and our Artist Index.
A strong effort for Graphitti Designs first foray into the original art edition market, Batman: Kelley Jones Gallery Edition brings unique newer material to this market. Graphitti Designs has burst out of the gate with their first volume, offering more pages for less money with a different approach to design and packaging. Here's their sales pitch from the solicitation.
Graphitti Designs' Gallery Editions reproduce the look, feel and attitude of the original art as it was originally created by the artist. Though it appears to be printed in black and white, the contents of these books are sourced from high-resolution, full color scans taken directly from the artwork. Each high-quality, Smythe-sewn hardcover book captures every detail of the art at actual-size, and are printed at 200 line-screen on a rich, heavy paper stock. Replicating the original art experience is our goal. The Gallery Editions are the next best thing to holding the original art in your hands – and easier on the wallet, too!
Ten complete issues of Batman drawn by Jones is a large feat, and Graphitti pulls it off by filling in missing pages with colour guides and production stats. It's very rare to have all the pages to complete every issue and photostats or bleached pages from the comics are the standard replacements, but Graphitti has gone another route and used colour guides from colourist Gregory Wright. These are original guides done for these issues and presents a completely different take on original pages. My only quibble is that they're not original art size so they look small in this volume.
The other issue is the number of colour guides and photostats included: out of 245 pages of material 27 are colour guides and 26 are production stats, 21.6% of the total volume. That number is substantial, but it was required to meet the goal of presenting complete issues. Batman: Kelley Jones Gallery Edition can and should be read. IDW normally has 6-10 pages from photostats, but that's in a volume with about 144 pages for about $125 at 12″ x 17″. This book is 248 pages for $125: that's a whole lot more art for the money. The book opens with the following note.
Unless noted otherwise, the images in this book were scanned in color at 600dpi from the original art. Printed actual size at 200 line screen in 160gsm, acid-free paper stock, this is the first book in the Graphitti Designs' ongoing, large format, hardcover book series.
The art in this book is presented in the context of the complete original series. Graphitti Designs has made every effort to locate and obtain scans of the original art represented in this book. With the passing of time, most of the originals that still exist have been dispersed and sold as individual pages to the fans of the medium worldwide. Original color guides by colorist Gregory Wright, photostats and copies created for production were used on pages where original line art was unobtainable.
Reproduction is quite good. Since inks play so heavily in Jones' work their printed look on the page from scans is paramount, and are captured in detail. Even the production stats are clean and clear. There is slight yellowing from age on some pages but overall they're in excellent condition. We're also treated to vellum overlays on several covers, glued tightly to the page at the spine.
That brings us to book production and the overall exceptional quality with which this volume was assembled. The pages are Smyth sewn and the interior spine is not glued to the cover; this allows the book to lay flat at any page. For a volume of this size it's a boon for reading. The paper stock is thick and durable. The book comes in a cardboard case, as is now the standard for this type of book.
Book design and layout are very straight forward: each issue is presented one after another, with the cover starting the issue if available and a design page between the cover and the first page to keep both of those on the right side. They're quite attractive, putting black images from the pages on a matte blue background to match the colour scheme of the volume. There is no introduction or afterward, just the note on production and a one page biography for the creative team to close.
Batman: Kelley Jones Gallery Edition is listed under DC by Diamond yet the book is published by Graphitti Designs. There's obviously a licensing partnership here but I can't determine what else. The pages came from collectors and creators, not DC's archives. The book doesn't seem to be distributed by DC, based on its notable absence from mainstream booksellers like Amazon. It is available at your local comic shop and online retailers.
---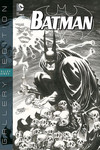 Batman Kelley Jones Gallery Ed HC
from Things From Another World