Sourced from the original art that has been scanned from collectors worldwide, this is the collection we've all been waiting for. Featured within the hardcovers of this Smythe-sewn edition is Miller's artwork from DKR #1-4, scanned in full colour from the original black-and-white pages. Also included are the covers, related art and previously unpublished pieces showcasing Miller's artwork as never seen before.
As with all AE format material (Artist's Editions, Artifact Editions, Gallery Editions, Art Editions, Studio Editions, etc.), this is a collection of classic comic material and I'll be reviewing the book and not the story. For a complete list of all current and announced editions, with review links, please visit our Index. Also, see What is an Artist's Edition and our Artist Index.
Fifty pages are not scanned from the original art. That sounds like a lot, and it is, but considering there are 188 pages total in the story so there are 138 pages scanned from original art. Some of these fifty have some original art under them as they're overlays with original redraws underneath. And there are a lot of overlays, as this volume contains quite a few of Klaus Janson's original pages where Miller reinked some panels. These are shown with Janson's page and Miller's art on an overlay. It's a unique perspective of original art and the process of penciler and inker.
I don't understand why the replacement pages come in two sizes: pages where no original art was available show 7.75″ x 11.75″ yet replacement pages on overlay are full size. The largest pages for this series previously published were the Absolute edition at 8.5″ x 12.75″. Too bad the colour guides weren't available.
The scans are clear and detailed. I only found one page to be a bit soft, and it was very slight. Blacks are deep and uniform. A moderate amount of correction fluid plays throughout. Also seen are blue pencil notes, pasted in text, straight lines for the letterer in the word balloons, and an overall feel of the production.
The pages have aged oddly, or at least some of them. While normal yellowing is present on a lot of pages, there is a group that has a pink hue. Not sure if it was the paper stock or how they were stored.
Included is a very strong extras section, with fold-out art from the first retail poster and the art from the retail standup leading off. Lots of art from the 10th Anniversary Edition showing the dramatic style change Miller had undergone in that decade.
Another stellar design by Brainchild Studios. Great use of a single colour throughout, and some great choices of artwork for endpapers, title page and table of contents. The strip of DC logos in every Graphitti Designs Gallery Edition lends a historical touch.
Production is excellent. Sewn binding allows for most pages to lay flat. Thick paper stock. Book came shrinkwrapped inside a cardboard case. I did end up returning my first copy as binding glue had stuck some pages together, but that can happen with any book.
---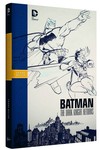 Batman Dark Knight Returns Gallery Ed HC
from Things From Another World