The Pulitzer Prize-winning creator of one of the most cherished and fondly remembered comic strips of all time showcases his art in this deluxe oversized edition. You've read all the strips, now see the art! This Artist's Edition features an incredible selection of daily and Sunday comic strips, as well as a selection of sketchbook pages and drawings, published here for the very first time, each and every one scanned from the original art. The dailies are presented at the ACTUAL size drawn, and the Sundays have been slightly reduced but are still bigger and more beautiful than they have ever been presented before! This is the ULTIMATE Bloom County collection by the inimitable Berkeley Breathed!
As with all AE format material (Artist's Editions, Artifact Editions, Gallery Editions, Art Editions, Studio Editions, etc.), this is a collection of classic comic material and I'll be reviewing the book and not the story. For a complete list of all current and announced editions, with review links, please visit our Index. Also, see What is an Artist's Edition and our Artist Index.
A second comic strip artist's edition, this time from the team of Scott Dunbier and Berkeley Breathed, who have worked to collect and reprint most of his works. This is an excellent sampling of material from 1981 to 1989, with dailies being the bulk of the material, printed at full size. We also get a smattering of Sundays (fourteen in all) printed at 87% to fit the format of the book. The rear houses an excellent sketchbook section, and a one-paragraph biography closes it all out.
Scan quality is excellent, with clear lines and text. We're treated to a variety of corrections in the form of correction fluid and paste-ups. Blue pencil is heavily present for text placement. No margin notes, save for the strip's number. The art has aged well, appearing off white to light tan. No gradients in the blacks. Limited use of Zip-A-Tone.
Another great design by Serban Cristescu, or as it's credited SERBCO! for some reason. Very simple in presentation, with the blue and red from the cover providing solid colours for the table of contents and chapter dividers. Panel enlargements for endpapers and sketchbook images for everything else. Art production edges are a nice touch on the designed pages.
Thankfully we get a nicely detailed table of contents, providing strip dates. No page numbers in the book, even though there was plenty of room for them.
Production is excellent, as is the norm for IDW. Sewn binding of heavy paper stock. The pages at the front and back of the book would not lie flat no matter how much center smoothing was applied. The book comes shrink wrapped in a cardboard case bearing a colour sticker showing cover image and UPC.
It's great to see IDW release another newspaper strip AE collection. Breathed has a strong relationship with IDW and this seems to be a natural extension of that. It also seems that extends to the markets this book is available; it's been a long time since we saw IDW offer an AE format book on Amazon.
The sketchbook pages stole the show; the rough pencils and imagery are outstanding. If you had trouble reading AE format books in the past this one is a real bear because of the landscape format. Worth it!
---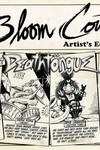 Berkeley Breathed Bloom County Artist Edition HC
from Things From Another World