DC Comics produced some of the very finest war comics ever, and by some of the best artists in the field. This spectacular Artist's Edition will include an amazing selection of stories by the best of the best: Heath, Kirby, Kubert, Severin, and Toth—a veritable pantheon of classic war artists doing what they do best. As with all Artist's Editions, these complete stories are scanned from the original artwork and reproduced to the exacting standards that have garnered IDW five consecutive Eisner Awards for the Artist's Edition series. If you are a fan of Classic DC war comics you cannot afford to miss this incredible book!
As with all AE format material (Artist's Editions, Artifact Editions, Gallery Editions, Art Editions, Studio Editions, etc.), this is a collection of classic comic material and I'll be reviewing the book and not the story. For a complete list of all current and announced editions, with review links, please visit our Index. Also, see What is an Artist's Edition and our Artist Index.
A strong and varied cast of artists are united in this volume pulling material from DC's silver and bronze age war comics. Of course Joe Kubert is strongly represented, but the Severin and Heath sections speak strongly. The highpoint is Toth's section, with the amazing White Devil… Yellow Devil.
We're presented with full stories by artist, then the gallery section by artist, closing with a special image in place of the usual biography.
Scans are mostly clear and clean. Based on the "Special Thanks" section the material came from a large number of sources, and as such scan quality will depend on each submitter's skill and equipment. The only issues are in the Gallery section, where three covers have softness or blurriness. No gradients in the blacks.
Aging is all over the place, with clean white pages and soiled brown pages. For the variety of creators there's a distinct lack of correction fluid and margin notes; you will spot some, just few and far between. Paste in replacements are more common.
Another stunning design by Randall Dahlk. With the variety of artists on offer there is a chapter divider for each, and Dahlk has designed them in the style of WWII propaganda posters. The clever blending of primary colours throughout give a life and pop to the otherwise black imagery.
Production is top notch. Sewn binding with heavy paper stock. Most pages will lay flat with a little smoothing. Embossed front and rear covers add a nice tactile element. The book came shrinkwrapped in a cardboard case with a small colour sticker showing cover and UPC. The fold out Kubert poster is an excellent addition, but unfortunately it's in the middle of the Toth section as they bound it in the middle of the book. The index lists page numbers but no page numbers appear on the book's pages.
---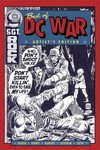 Best of DC War Artists Edition HC
from Things From Another World