The second volume of Best of EC Artist's Edition is—remarkably—just as good as volume one! Includes what can arguably be called the best stories by Harvey Kurtzman (Airburst), Al Williamson (Food for Thought, Lost in Space), Bernie Krigstein (Master Race, In the Bag) and more! BONUS—a section with newly found Wally Wood stories is also included in this tome! As with all EC Comics Artist's Editions, this book will be a massive 15 x 22 inches! The best stories and art from the best comics imprint of all time! Plus a fantastic selection of covers!
ISBN: 978-1-63140-291-3
15″ x 22″, 176 pages
$125 USD
As with all AE format material (Artist's Editions, Artifact Editions, Gallery Editions, Art Editions, Studio Editions, etc.), this is a collection of classic comic material and I'll be reviewing the book and not the story. For a complete list of all current and announced editions, with review links, please visit our Index. Also, see What is an Artist's Edition and our Artist Index.
Another astounding collection of Entertaining Comics original art, Best Of EC: Artist's Edition, Volume Two is another must have volume from IDW.
Since this is a collection of short stories from a variety of creators, here is a complete list of what is included.
Johnny Craig
Dearly Beloved, Vault Of Horror #39
Crime Suspenstories #12 cover
Vault Of Horror #22 cover
Jack Davis
The Last Of The Mohicans!, Two-Fisted Tales #40
Incredible Science Fiction #31 cover
George Evans
…My Brother's Keeper, Shock Suspenstories #16
Aces High #5 cover
Jack Kamen
Beauty And The Beach!, Shock Suspenstories #7
Bernard Krigstein
In The Bag, Shock Suspenstories #18
Master Race, Impact #1
The Pit!, Vault Of Horror #40
You, Murderer, Shock Suspenstories #14
Harvey Kurtzman
Air Burst!, Frontline Combat #4
Contact!, Frontline Combat #2
Rubble!, Two-Fisted Tales #24
Trip Into The Unknown, Weird Fantasy #13
Frontline Combat #1 cover
Two-Fisted Tales #25 cover
Two-Fisted Tales #27 cover
Two-Fisted Tales #28 cover
Joe Orlando
Chewed Out!, Weird Science #12
I, Robot, Weird Science-Fantasy #27
John Severin and Bill Elder
Bomb Run!, Frontline Combat #4
Al Williamson
The Arrival, Shock Suspenstories #8
Fish Story, Weird Science-Fantasy #23
Food For Thought, Incredible Science Fiction #32
Lost In Space, Weird Science-Fantasy #28
Weird Fantasy #21 cover, Inks by Frank Frazetta
Wally Wood
Caesar!, Frontline Combat #8
The Martians!, Weird Science #15
War Of 1812!, Frontline Combat #6
Old Soldiers Never Die!, Two-Fisted Tales #23 (splash only)
It's a strong and varied collection of work from the EC stables, with representation across the board. As with the Spirit, this second volume in the series is much stronger than the first. Since these pages all came from Gaines' archives and were sold through Russ Cochran in the 1980s perhaps we'll see many more volumes.
The art as shown is nothing short of breathtaking. Each chapter is a marvel of pencil and ink. There is not high enough praise for what the artists were able to capture on paper. Kurtzman and Williamson steal the show, but Krigstein and Davis hold their own. There aren't any throwaway backgrounds, stick figures in the distance or skimping on the panels: it's lush and detailed page after page, regardless of the artist.
Production is superb. Blacks are deep and gradience can be seen. All pages are crisp and clear. For the age of the material few pages are overly yellowed. The book came packaged in a cardboard case but was not shrinkwrapped.
Design is understated with minimal colour, following the look of the first volume. With the multitude of creators a chapter contents page lists that artist's work and uses that olive green and cream throughout. The use of original EC pages for the chapter's background is slick and cohesive. There is a one page biography of Entertaining Comics to close things out.
The book opens with this quote from Theodor Geisel: "Don't cry because it's over. Smile because it happened". Here's to continued smiles from this amazing stable of creators, and to IDW for giving us two volumes of it…so far.
---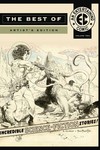 Best of Ec Artist Edition HC Vol. 02
from Things From Another World