You've seen Sin City, but never like this! Frank Miller's Sin City: The Hard Goodbye Curator's Collection showcases the entire graphic novel scanned from the original artwork in Frank Miller's archives and reproduced at full size. Introduction by Robert Rodriguez, with an afterword by Mike Richardson and an interview about the artistic process with Frank Miller!
* Reproduces the original artwork—at full size—directly from the originals in Frank Miller's archives!
* The first volume in Kitchen Sink Books' Curator's Collection series, featuring acclaimed graphic novels reproduced from the original art, shown alongside text pieces, unseen artwork, and ancillary material.
As with all AE format material (Artist's Editions, Artifact Editions, Gallery Editions, Art Editions, Studio Editions, etc.), this is a collection of classic comic material and I'll be reviewing the book and not the story. For a complete list of all current and announced editions, with review links, please visit our Index. Also, see What is an Artist's Edition and our Artist Index.
In its entirety, the first Sin City storyline from Dark Horse Presents. The Hard Goodbye was evolutionary in Miller's style, as he went further into heavy figures and exaggerated forms and expressions. Faces and builds are very similar to The Dark Knight Returns, but this was meant for black and white only, and in this Miller excels and improves with each issue. Take a look at the pages above, with the shadow only showing the bricks on the walls, and just marvel. Visually aggressive.
All but nine pages are scanned from the original art. Every scan is clear with no softness. Blacks vary page to page depending on the ink used, but we see gradients throughout. No margin notes, but plenty of corrections, page stains and glue.
The missing pages are scans of the comic pages enlarged and made off white or ivory. They're slightly pixelated but overall blend in very well. Their cleanliness compared to Miller's originals are the tip off.
Page sizes vary as the book progresses, beginning with larger pages and going smaller not too far along. The book's page size seems to be chosen for allow margins and page numbers, but a few gallery pieces are full size edge to edge. That and a few other questions you'll have as you read through are answered in the interview with Miller at the end.
John Lind is the editor and designer on this volume, and as such gets all the credit. This is the first original art work by Kitchen Sink Books, and it's interesting to note what formats have been followed from others in this field and what is new. No table of contents but page numbers. Closing the book out with a one page biography. Indices and credits page, at the back instead of the front. Gallery extras interspersed among the text at the back, with captions for art information. No cover sticker on the box.
The process interview of Miller by Lind is a stand out feature that fits so well with this style of book, building upon the visuals and answering so many questions regarding the material. A worthy addition to this format.
Overall design is excellent. The Sin City red goes in with the blue for title pages, indices and credits. Superb reuse of images on those pages, blending multiple images to full effect. Look at the back cover on an angle for special treat. Cloth spine with that aggressive cover is a nice touch, as is the cover gallery facing Mike Richardson's afterword.
Miller indicates he did the first twenty or so pages in pencil and then inked them separately, and we get to see a few of those. It would have been great to feature them all in the gallery. Which brings us to the only item I question, which is the double spread of quotes from industry creators praising Sin City. They're nice, but we've already committed sight unseen to this $175 book and don't need the extra sales push to get us to the checkout.
Production is of the highest level. Sewn binding on a very heavy matte paper stock; comparing by touch the paper feels thicker and a different texture than what IDW uses. The book comes shrinkwrapped in a cardboard case, with a sheet of paper covering the book. On the box is a text sticker with title, UPC and price.
---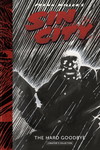 Frank Miller's Sin City: The Hard Goodbye Curator's Collection HC
from Things From Another World