Amanda Conner's amazing artwork showcasing some of DC's most iconic female characters is collected together for the first time in the large, deluxe-format GIRL POWER: AMANDA CONNER GALLERY EDITION. Sourced from the original art, this collection reflects the incredible diversity and power of Conner's style. Contained between the oversized covers of this Smythe-sewn edition are high-resolution scans of Amanda's artboards for POWER GIRL #1, 7, 8 and 9, DC'S WEDNESDAY COMICS Supergirl feature and the complete BEFORE WATCHMEN: SILK SPECTRE saga, as well as an assortment of cover art from these series.
As with all AE format material (Artist's Editions, Artifact Editions, Gallery Editions, Art Editions, Studio Editions, etc.), this is a collection of classic comic material and I'll be reviewing the book and not the story. For a complete list of all current and announced editions, with review links, please visit our Index. Also, see What is an Artist's Edition and our Artist Index.
A wonderful representation of Amanda Conner's body of work for DC: four issues of Powergirl, twelve episodes of Wednesday Comics Supergirl, all four issues of Before Watchmen: Silk Spectre, plus a cover gallery.
Let's start with the two production questions that are raised after one flips through the book. First, there's no mention of adding the lettering to the original art scans, but the word balloons stand out a little too much because of the second oddity of the greyish colour of the artboards. At first, I thought it was just my eyes playing tricks on me from the colour of the page as most of the original art has a good-sized margin. Then when you look closely at the word balloons you can see that they're white with some opacity and the page underneath is slightly grey.
There is no mention of digitally adding the word balloons to the pages in the production notes, but there is a credit to "John Roshell and Richard Starkings at Comicraft for their lettering expertise". It looked a little too precise in its application so I looked around online at other Amanda Conner artwork and none of it has word balloons. I appreciate the opacity applied to the lettering so we can see the artwork below. I applaud this step and wholeheartedly endorse this process for all future editions from modern works that don't have lettering applied to the original art. These are books, and books are meant to be read.
Unfortunately, I couldn't get to the bottom of the greyish artboards. They're all labelled PaperFilms, the studio Conner is a part of, and must be custom-produced boards. The grey isn't detracting but slightly distracting in the face of the white word balloons and the borders.
The scans are all clear and crisp. Being fairly recent, no pages show any ageing. All pages are very clean, with no margin notes or corrections. We are treated to, what is becoming a hallmark of Graphitti Designs, one overlay of a redraw in Silk Spectre. As well Conner's pages prices are written in pencil on the corners.
Fourteen pages in total are not scanned from original art and are labelled as such; eleven story pages and three covers. As in previous Gallery Editions, the missing pages are printed at standard comic size. The missing pages and covers are all Power Girl: issue 1 pages 5-6, 9, 14, 16, issue 8 page 20, issue 9 pages 4, 8, 11, 16, 22, and covers of issues 3, 6, 11.
The cover gallery presents a wide range of DC material, including JSA: Classified and Convergence. Oddly three covers are included that are not scanned from original art: they're not part of the storyline and aren't needed for continuity so why include them in the cover gallery?
I was concerned about how the Wednesday Comics pages would be presented, but they're the center of the book and are presented full size sideways. With the superior binding, the pages open fully and there is no gutter loss.
Design by John Beatman of Brainchild Studios follows the template he established for the line. It's clean, eye-catching and visually effective. Adding this time are the small circles of art on the cover and table of contents. The page margins are large enough that page numbers would have fit, and would have been a welcome addition.
Production is excellent. Smythe-sewn binding of 160 gsm acid-free paper stock. The book comes shrinkwrapped in a cardboard case with a black and white sticker showing a partial cover image, price and UPC.
---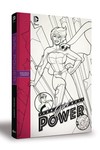 Girl Power Amanda Conner Gallery Edition HC
from Things From Another World