Herb Trimpe was one of the premier artists working for Marvel in the 1960s and 1970s. His extended run on The Hulk is a high point for many fans of Bruce Banner's rampaging alter ego, with masterful inks by both Trimpe and John Severin. This Artist's Edition features at least five complete stories by Trimpe and an incredible cover gallery to boot!
As with all AE format material (Artist's Editions, Artifact Editions, Gallery Editions, Art Editions, Studio Editions, etc.), this is a collection of classic comic material and I'll be reviewing the book and not the story. For a complete list of all current and announced editions, with review links, please visit our Index. Also, see What is an Artist's Edition and our Artist Index.
This volume includes Incredible Hulk 127, 131, 134, 146, 147, 153 and 156, plus a broad selection of covers. The striking aspect of the work is the change Trimpe's pencils undergo from the inkers on these issues: Trimpe himself, John Severin, Sal Trapini and Sal Buscema. Trimpe inking his own pencils is the show stopper here, closely followed by Trapini's work: clean and detailed lines, Severin takes it another direction with a scratchy approach and Buscema is somewhere in the middle.
Along with the issues presented their covers are also in the main body, plus an additional eleven covers in the gallery. Oddly the cover credits are all listed in the gallery, including those in the main body. A first for this volume is a collection of Bullpen Bulletin art by Marie Severin, revolving around Trimpe in the office. They're fun and playful, giving a slice of everyday life from a bygone era.
All pages but three are from original art scans, and those three are covers in the main body added for completeness and clearly marked. Scan quality is good, with only a few pages of the last story looking a bit soft. Blacks are strong and uniform, with gradients seen only in the last issue.
The pages have aged well, ranging from tan to mild yellowing. Paste ups show the most aging, and are included for art and word correction and panel duplication. Correction fluid and glue also pop up here and there. Not many margin notes on these pages, but Trimpe's blue preliminary pencils come through loud and clear on the first few issues. It's fun and informative to see those with the finished inks.
Another captivating design from Randall Dahlk; using the green and purple of the 1970's Hulk as the colour palette is inspired. And of course those classic Ben-Day dots: the credits, indices and chapter divider pages pop out from the work. Here's what he had to say about this volume:
With this collection of Incredible Hulk stories, I attempted to give my own vision of classic comic book coloring. I deliberately made the coloring off-register and over lapping. I wanted the color to "soak" into the art boards, and make sure that the line art floated to the top. I guess it's kind of a "pop art" homage. It feels appropriate for the time period in which these stories were originally published.
IDW has production down to a science on these volumes: thick matte paper stock in a sewn binding. The book comes packaged in a brown cardboard case with a small colour sticker showing cover image and UPC.
This time around it's not just Dunbier and Dahlk on the book: we have an additional cast credited. Rebekah Cahalin on production, Michael Benedetto on editing and Scott Tipton on proofreading.
Herb Trimpe's The Incredible Hulk Artist's Edition closes with a one page biography.
---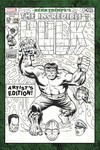 Herb Trimpe Incredible Hulk Artist Ed HC
from Things From Another World