Jack Kirby was the most important and influential artist in comics history. He co-created most of the Marvel Universe, including Captain America, The Fantastic Four, The X-Men, The Incredible Hulk, Ant-Man, Iron Man, The Silver Surfer, and so many others — as writer, artist, innovator, his legacy is unparalleled. This very special Artist's Edition features The Mighty Thor, one of the key characters from the fabled Marvel Age of Comics — all the grandeur and energy that infused Kirby's work is evident here. Classic complete stories are presented from Journey Into Mystery #111, #117, #118, Thor #134 and #135, and Thor Annual #2! Also included is a spectacular gallery section featuring 10 Kirby Thor covers, and many rare and historical pages, several from the Norse God's very first story!
ISBN: 978-1-63140-603-4
Diamond Item Code: JAN160388
15″ x 22″, 160 pages
$125 USD
As with all AE format material (Artist's Editions, Artifact Editions, Gallery Editions, Art Editions, Studio Editions, etc.), this is a collection of classic comic material and I'll be reviewing the book and not the story. For a complete list of all current and announced editions, with review links, please visit our Index. Also, see What is an Artist's Edition and our Artist Index.
This is the big one: early Marvel Kirby pages at their twice up original size. Six complete stories, ten covers, ten splashes and twenty-eight panel pages. Plus an introduction by Walter Simonson and a Jack Kirby biography. It's gold, Jerry, gold!
The full stories are wonderful to have, allowing reading and enjoying the stories at full size. So many stunning splashes and large panels showing off Kirby's style. All but four pages are original art: the missing pages are blow ups from the comics with colour removed.
The gallery section is very large, and the inclusion of very early Journey Into Mystery pages gives Kirby's early Thor design: no Kirby bulk to be found. As well since most of the stories in the main section are inked by Vince Colletta these gallery pages show a wide range of styles from Marvel's other early inkers: Joe Sinnott, Dick Ayers, George Roussos, Chic Stone.
The scans are clear and without issue. Blacks are deep and rich with gradient showing on most pages. For their age the pages are remarkably clean, with moderate yellowing. So many notes on every page, giving us a chance to see what the outline was and how it transformed into the finished product. A healthy amount of correction fluid appears throughout, along with blue pencil for word balloon placement and changes.
Another winning design by Randall Dahlk. The endpapers are two separate panel enlargements, showing off the inking and correction fluid. They appear to be sharpened slightly after enlargement, presenting it clean and clear. Colour palette is understated and pleasant. Runic pattern throughout mirrors that design from Simonson's Thor edition. Here's Randy's thoughts on the design:
When designing certain aspect of this book, I wanted to focus on the energy and action in each of the panels I chose to use. With the use of color blocks and angular shapes it directs your eyes to the movement working in those panels. The border and fonts hopefully convey a "feeling" of nordic heritage. That was the "vibe" I was going for. I also isolated portions of the panels, so it focused primarily on Thor. Usually Kirby's panels are so dense with characters and activity, it's nice to sometimes create a little breathing room, to appreciate details of his art.
Production is, as always, a hallmark of IDW perfection. With this many volumes under their belt the formula is set in stone: sewn binding with heavy matte paper stock. No shrink wrap this time. The book comes in a cardboard case with a small colour sticker showing cover and UPC.
---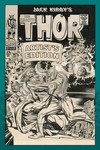 Jack Kirby Mighty Thor Artist Ed HC
from Things From Another World