Jeff Smith's Bone was launched through Cartoon Books in 1991. Winning 10 Eisner Awards (while being nominated for another 11), Bone is one of the most successful and critically acclaimed independent comic book series of all time. Now, IDW Publishing presents The Great Cow Race, one of Smith's most well-regarded tales, in the award-winning Artist's Edition format. Featuring the entire Bone clan-Fone, Smiley and Phoney-as well as Gran'ma Ben and Thorn, and, of course, those stupid, stupid Rat Creatures! Don't miss what promises to be one of the finest Artist's Editions of the year!
As with all AE format material (Artist's Editions, Artifact Editions, Gallery Editions, Art Editions, Studio Editions, etc.), this is a collection of classic comic material and I'll be reviewing the book and not the story. For a complete list of all current and announced editions, with review links, please visit our Index. Also, see What is an Artist's Edition and our Artist Index.
Collected here is the Great Cow Race storyline from Bone 7-11, a story from Disney Adventures Digest and and material from Wizard Presents Bone 13 1/2. Opening it all is an introduction by Smith and closing out is a one page biography of Smith.
All the art pages in the book have a brownish grey colour to them: it's hard to tell if that's from aging or Smith used a different type of paper for his pages. The pages not from those original Bone issues are white to off white, so he changed somewhere along the way.
His love of blue pencil comes through on every page as we can see many pencils under the inks, as well as the lettering he wrote on every page before pasting finished text blocks into the word balloons. Blacks are very deep and rich; mostly uniform with some gradients here and there.
Design by Dahlk is clean and minimal. The light blue from the interior edge of the cover carries inside with an accompanying soft green. Chapter dividers are panel enlargements with no colour added.
Layout is a bit confusing, but only when you reference the gallery table of contents. It references covers and artwork amongst the main content, preceding this table of contents, but listing page numbers that don't appear on the pages.
Production is excellent. Sewn binding of a thick matte paper stock. The binding is fairly tight, with few pages able to lie flat. The book comes shrinkwrapped in a cardboard case with a small black and white sticker showing cover and UPC.
---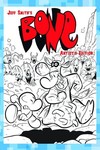 Jeff Smith Bone Great Cow Race Artist Ed HC
from Things From Another World