In 1968, Bob Kanigher and Joe Kubert launched a new kind of war book, one that showed military conflicts from the other side of the coin. Thought by many to be Kubert's most powerful work, Enemy Ace told the story of a World War I flyer who had a keen sense of honour and deep-rooted nobility. Kubert took this new concept and rose to the challenge. Today Enemy Ace remains one of Kubert's great achievements. Collecting Star Spangled War Stories #139, 140, 141, 142, 144, as well as rare cover preliminaries by Kubert, and a short Enemy Ace story pencilled and inked by the incomparable Russ Heath!
As with all AE format material (Artist's Editions, Artifact Editions, Gallery Editions, Art Editions, Studio Editions, etc), this is a collection of classic comic material and I'll be reviewing the book and not the story. For a complete list of all current and announced editions, with review links, please visit our Index. Also, see What is an Artist's Edition and our Artist Index.
Late 1960s war art at its finest, Joe Kubert Enemy Ace Artist's Edition presents a completely different facet of Kubert's work to this auspicious line.
The first original art book from 1960s DC material, Joe Kubert Enemy Ace Artist's Edition collects six stories of Enemy Ace from Star Spangled War Stories. All stories are written by Robert Kanigher, but only the first four stories are penciled and inked by Joe Kubert. The fifth is penciled by Neal Adams and inked by Kubert while the sixth is penciled and inked by Russ Heath.
The scans are clean and detailed, showing off inks and blue pencil throughout Kubert's pages. For their age most of the pages are well preserved with little yellowing and aging only really showing in a few pages. Kubert's art is so clean and detailed during this phase of his career, before he employed a scratchier hashed style with more aggressive lines. There's no confusing this art for anyone but Joe Kubert at his finest. His inks are so strong I had trouble identifying Neal Adams' pencils at all in the fifth issue.
Two issues with this Artist's Edition that haven't been encountered before: work not from the named artist, and problems with the original pages during scanning. I don't understand the inclusion of a nine page story by Russ Heath. Yes it's an Enemy Ace story, but this is Joe Kubert Enemy Ace Artist's Edition. Heath's style is so different from Kubert's these pages clash with the rest of the book.
In the book are two pages not from original art, which for the contents is a relatively low number. Oddly there are two scanning issues, where the art had an issue and it was left in. Page twenty of Star Spangled War Stories 140 has the top right corner torn and sitting in the top panel, while Star Spangled War Stories 152 page 21 has a folded over dialogue correction. Both of these could have been existing issues with the art and the scanner didn't want to attempt to correct and possibly damage the page, but then why not make a note of it on the credits page?
Another wonderful design by Randall Dahlk, utilizing a single colour so effectively. A very strong presence working Ace's jagdstaffel throughout. IDW continues on its success of heavy paper stock and sewn binding, possibly a little too tight as I had trouble with pages not laying flat.
Extras are thin this time around, with a Sgt. Rock cover featuring Enemy Ace, colour and inked cover prelims and a two page spread featuring Fire Hair from Tomahawk 131.
---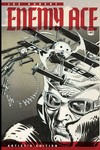 Joe Kubert Enemy Ace Artist Ed HC
from Things From Another World