Legendary creator Joe Kubert was responsible for an amazing stream of great works, for more than a sixty-year period. Now, in his second IDW Artist's Edition, we present Joe Kubert's Tor: Artist's Edition, collecting four oversized issues and covers, along with the rarely seen unpublished Newspaper strip of Tor by Kubert plus two unfinished Tor stories in pencil form by Kubert, all in the award-winning Artist's Edition format.
As with all AE format material (Artist's Editions, Artifact Editions, Gallery Editions, Art Editions, Studio Editions, etc.), this is a collection of classic comic material and I'll be reviewing the book and not the story. For a complete list of all current and announced editions, with review links, please visit our Index. Also, see What is an Artist's Edition and our Artist Index.
A decades spanning collection of underappreciated work, Joe Kubert's Tor Artist's Edition deserves your attention.
I let this book come and go when it was solicited and published, but something in the back of my collecting mind wouldn't just let it go. Show after show I saw it for sale at dealer's booths, neglected. I finally succumbed and ordered it from my local comic shop, and am very glad I did.
The material included presents Kubert material from two extremes of his career: very early and very late. Reading through and comparing the two is a real treat and gives a great retrospective of style. The bulk of the book is a Tor mini series from Epic (Marvel) in 1993 and the extras section contains the Tor newspaper strip pitch from 1959 and the 1975 first DC issue of that reworked material. As well there's a short story from 1991, an unfinished story, plots, roughs and wraparound covers to the Epic issues. We don't see the first or last of Tor's appearances but this is an excellent selection.
The quality of the source material is excellent. All the pages look like they were stored well, and the Epic pages are snowy white. Since the main story is a complete mini-series it reads well, as do the extras. There is no need for colour in any of the material; it all looks and reads wonderfully in this format. Reading through the newspaper strips and then seeing how Kubert manipulated them into a regular comic is quite enlightening. Overall the book presents Tor in one of its best packages.
Not only does the reader experience a full series, early newspaper strip and early DC issue, but we're also treated to a roughed out but incomplete book with typed story pages. A peek behind the curtain of how Kubert worked. This completes the package for those who buy the Artist's Editions to see how the creators worked and how the craft was applied: Joe Kubert's Tor Artist's Edition is a masterclass in sequential storytelling.
Design by Randall Dahlk is excellent as usual, providing the only colour in the book through his pages. Oddly there is only one chapter divider, between issues two and three. The first two issues and the last two issues flow into each other. Because the covers are wraparound they are too big to use for that role and are featured in the extras.
Heavy paper stock and sewn binding are the framework for another quality book production. Most pages lay flat, but the binding may be a tad tight. The material is from a wide range of eras and is different sizes, but it all works well in the overall package.
---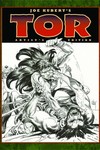 Joe Kubert Tor Artist Ed HC
from Things From Another World