Collecting more than 8 consecutive issues of John Romita's Spider-Man stories, and nearly all pencilled AND inked by Jazzy John Romita-and weighing in at a back-breaking 216 pages! Fantastic stories featuring Peter Parker battling Villains like Kraven the Hunter, Doctor Octopus, and Hammerhead, and, with nearly every page is scanned from Romita's original art, this is an art lovers dream book!
As with all AE format material (Artist's Editions, Artifact Editions, Gallery Editions, Art Editions, Studio Editions, etc.), this is a collection of classic comic material and I'll be reviewing the book and not the story. For a complete list of all current and announced editions, with review links, please visit our Index. Also, see What is an Artist's Edition and our Artist Index.
IDW's second John Romita (Sr. for those who were wondering) Artist's Edition; this time around it's all Romita on every page, as he penciled and inked these stories, except for some Giacoia inks in the first story. A real treat for fans of Romita and his run on Amazing Spider-Man.
Presented here are Amazing Spider-Man issues 106, 108-115, covers to 109, 110, 116 and 118, and a one page biography. It's one of IDW's longest Artist Editions at 216 pages.
All scans are clear and crisp; no blurriness or pixelation.There's a consistency to the aging, with pages from tan to yellow. Blacks are uniform and show no gradient. While there are some margin notes most were trimmed off for production. We're treated to blue pencils on some pages but few corrections.
Some unique layout elements to this edition: no separate gallery section, just the four covers listed in the table of contents. Pages not scanned from the original art are labeled "Stat shot from the original art for Marvel's in-house archives", and the only time this has shown up in any of these Artist's Editions. Begs the question of what other original art was put in these in-house archives.
Another great design from Dahlk, carrying forward from the first volume. Very clean images used for the indices and chapter divider pages, with a strong limited palette. Here are his thoughts on the design.
These are some of the design pages for the second volume of IDW's John Romita's Spider-Man Artist's Edition. Since there was a first volume, I wanted there to be familiar design elements that carried over from the first book. But I also wanted it to be unique enough so it didn't seem like I was being lazy or cheating. Since I enjoy designing so much, sometimes it's hard for me not to want to create something totally different. Part of my inspiration for this design style, were book and poster designs from the early 1970s. There is a boldness in it's simplicity. Going for period accurate design is part of the challenge but also a major part of the fun!
Solid production from IDW, with a sewn binding of thick matte paper stock. Most pages were able to lay flat when the center was smoothed down. The book came shrinkwrapped in a cardboard case with a small black and white sticker showing cover image and UPC.
---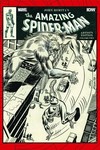 John Romita Amazing Spider-Man Artist Ed HC Vol. 02
from Things From Another World