Mike Zeck is one of the classic artists of the 1980s, at the forefront of many of the best books and in demand by fans and editors alike. This unique Artist's Edition showcases some of Zeck's finest works—the first two issues of the initial Punisher miniseries, the first issue of Secret Wars, a classic two-part Captain America story (featuring Deathlok, Nick Fury and Spider-Man), and the first part of what is arguable one of the best Spider-Man sagas ever done… Kraven's Last Hunt! Additionally, there are extensive covers throughout, including many of Zeck's best!
ISBN: 978-1-63140-391-0
12″ x 17″, 192 pages
$125 USD
As with all AE format material (Artist's Editions, Artifact Editions, Gallery Editions, Art Editions, Studio Editions, etc.), this is a collection of classic comic material and I'll be reviewing the book and not the story. For a complete list of all current and announced editions, with review links, please visit our Index. Also, see What is an Artist's Edition and our Artist Index.
A focused look at his Marvel career, Mike Zeck's Classic Marvel Stories Artist's Edition hits the highlights and is sure to please fans. IDW has some new players on this Artist's Edition, and as such there are changes to the format, layout and design. Scott Dunbier is editor, but we have "art for this edition compiled by Kelvin Mao" and design by Serban Cristescu. Material is grouped by title, so Punisher issues then covers, Secret Wars issue and covers, Kraven's Last Hunt issue and covers, Captain America issues then covers. It flows one into the next, with no chapter breaks.
There is a real breadth of material included, with "must-haves" for Zeck fans including Punisher and Kraven's Last Hunt. While popular Secret Wars looks just as rushed here as it did in standard comic form. The Captain America issues are consecutive and feature a nice cast of characters to give you a full serving of Zeck on Marvel.
The interior pages are all nice, with limited yellowing. The pages inked by Beatty show solid blacks while the issue inked by McLeod has gradients in the blacks. Not a lot of corrections present, but a good amount of 1980s Zip-A-Tone.
A few stand out sections are included, such as three Punisher covers from Zeck's pencils and the full six covers for Kraven's Last Hunt. And thirteen Captain America covers, including Annual 8 with Wolverine. Six Secret Wars covers, including two that were rejected but later used in collected editions.
There are no missing pages from the included issues, providing a wonderful reading experience. It's a pleasure to be able to compare Zeck's pencils to his work inked by John Beatty and Bob McLeod.
Then there are the oddities and lows of the book. Two foldout pages provide four covers, including Secret Wars 1 and Punisher 1 and 2. Oddly these three very large covers look washed out and cleaned up, with no yellowing and even a slight blurriness. There's no indication if these are actual size. At first I thought they were just very clean and preserved covers, but the front cover of the book features the same Secret Wars 1 cover and you can see the yellowing and stains on the art. On the foldout it's strictly black and white and clearly not a scan of the original art. Very much a let down. This seems to continue to a few Captain America covers that are again black and white with no visible aging. Compare the two covers below. The paste ups are clearly visible, there is slight yellowing on the edges, but the scan on the right just doesn't look…accurate. There are several covers here that lack the nuances of original art and look more like aged photostats.
Design is best described as subdued. With no chapter dividers Cristescu's work is limited to indices, Table Of Contents and endpapers. There isn't a unifying colour scheme or art usage; each seems to stand on its own without flow.
Production is excellent, with the book stitched a little too tightly as always. None of the pages would lay flat. It was shrink wrapped and came in a cardboard case with a colour reference sticker.
---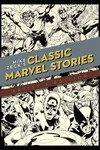 Mike Zeck Classic Marvel Stories Artist Ed HC
from Things From Another World