IDW Publishing is pleased to offer under license from our good friends at Marvel Comics the first Star Wars Artifact Edition! Featuring scans of original art mainly from the initial 10 issues of Marvel Comics' groundbreaking Star Wars comics, as well as from other early issues by Carmine Infantino. As with all Artist's Edition style books, there will be a wealth of extras, including a superb cover gallery showcasing some of the very earliest examples.
12″ x 17″, 160 pages
ISBN: 978-1-63140-458-0
$100 USD Suggested
As with all AE format material (Artist's Editions, Artifact Editions, Gallery Editions, Art Editions, Studio Editions, etc.), this is a collection of classic comic material and I'll be reviewing the book and not the story. For a complete list of all current and announced editions, with review links, please visit our Index. Also, see What is an Artist's Edition and our Artist Index.
I had not intended to pick this up, but a few weeks before release I changed my mind and put an order in at my local comic shop. It's an artifact edition, meaning no complete issues but whatever art could be located. That makes it difficult to read the book and get anything akin to a story out of it and more on an art book page flipping experience. While I've been reading comics since these hit the stand my only affinity for the material were the Al Williamson drawn adaptations.
Standouts are the Michael Golden pages from issue 38 and the foldout Howard Chaykin poster: these were worth the price alone. Chaykin's credits vary with every issue, moving from penciler to layouts and then breakdowns. Outside of issue 1 it's hard to see any Chaykin at all in the art.
A slew of credits this time around: editor, assistant editor, associate editor, proofreader and designer. Someone in there did the scanning. Proofreading is an interesting credit since the book contains no introduction, foreword, afterword or biography. The only text I could find outside of contents was two paragraphs about Pizzazz.
The other oddity is the inclusion of five covers not scanned from original art but included "for the sake of their historical importance". No mention of what that historical importance is unfortunately.
A pleasant mix to the pages are those coloured by Steve Oliff; while he isn't credited in the table of contents his name appears on the pages themselves. Unfortunately there's no indication of why these were coloured directly on the pages while others weren't.
Scan quality is excellent overall; a few pages were slightly off but only on careful study. The thanks section includes thirty-three names so the material is coming from a large pool. Aging varies greatly, with heavy to absent yellowing visible, along with a fair amount of cruft that's makes for an authentic original art experience.
Blacks vary greatly as well but that's more to the choice of inks used on the page then the scanning.
Design by Serban Cristescu is concise, uniform and appealing. The use of the dark backgrounds and red line throughout present a unified package.Endpapers are blown up panels, and there are no issue dividers, just the table of contents and gallery listing.
The volume came shrink wrapped in its cardboard case with a small colour sales sticker. Sewn binding, heavy paper stock make for a well designed and produced book.
---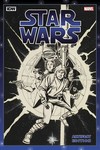 Star Wars Artifact Ed HC
from Things From Another World