This book reproduces all the original art to the first issue of one of the most important comic book phenomenons of the last 35 years — The Teenage Mutant Ninja Turtles. Scanned directly from the original art, mimicking the experience of the original hand drawn page, and also collecting all the layouts (also hand drawn) by the creators of what has been called this generation's Mickey Mouse and Donald Duck. Rounding out the volume is an extensive gallery of other TMNT images, also scanned directly from the original art.
As with all AE format material (Artist's Editions, Artifact Editions, Gallery Editions, Art Editions, Studio Editions, etc.), this is a collection of classic comic material and I'll be reviewing the book and not the story. For a complete list of all current and announced editions, with review links, please visit our Index. Also, see What is an Artist's Edition and our Artist Index.
While titled as an Artisan Edition, this book is not a smaller reprint of an existing Artist's Edition, and as Jack Kirby Pencils And Inks Artisan Edition, is a hardcover of original art. The Artisan Edition line seems to have morphed into its own reprint line of material that's too small for an Artist's Edition, or focused on something other than a collection of stories.
In this volume, we have the first issue of Teenage Mutant Ninja Turtles in three different production stages, along with an introduction and a small gallery of ancillary art. First, we have the rough pencil breakdowns, then inked pages, and finally with duotone shades added. Kevin Eastman provides the introduction and explains the duotone sheets were $20 so he cut them into thirds and produced the art at this reduced size. Hence this Artisan edition of 9″ x 13″. I asked Scott Dunbier why this wasn't being published as an Artist's Edition and he said with the reduced size of the original art this seemed to be a better fit. While the inked and duotone pages are full-size scans of the original art, we don't know what size the pencil breakdowns were originally.
Scan quality is excellent; no softness, just sharp images. The breakdowns and duotone art is scanned from the originals, but the inked art is scanned from photocopies Eastman made. As you can see they look great. Because they're photocopies the blacks are uniform; blacks on the duotone boards show gradients. Lots of notes on the breakdown pages but nothing on the inked or finished art.
Dahlk's design is very straightforward: shades of green with black text. Great chapter dividers highlighting each Turtle with a background image of their namesakes. Clean and elegant, adding images to enhance the experience but not hijack.
A hardcover with heavy matte paper stock in a glued binding. Originally solicited at $49.99 but shipped with a $39.99 price tag.
This one is for hardcore TMNT fans and perhaps original art fans. It's the same amateurish art three different ways, showing a nice progression to the printed page.
---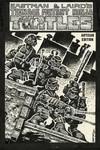 Teenage Mutant Ninja Turtles Artisan Ed HC
from Things From Another World