Terry Moore's work as a writer and artist (and letterer) is on display for all to see in the new Terry Moore: Strangers In Paradise Gallery Edition. Celebrate the 25th Anniversary of SIP with this presentation of Moore's art spanning the entire Eisner Award-winning series. The evolution of Terry together with Francine, Katchoo, David and all of the other characters that inhabit the SIP world is captured in this 248-page, large-format, hardcover edition. The artwork contained in this Smythe-sewn deluxe edition is framed by the original 20-page version of the very first SIP story and SIP #90, the series' 2007 finale. Included between these "bookends" is a representational page from each of the 105 issues published between issues #1 and #90. Also included is an extensive Gallery section containing covers and miscellaneous SIP art from the last 25 years. Sourced from high-resolution scans from the original art and reproduced at the actual size, this 12″ x 17″ deluxe volume is printed at 200 line-screen on heavy paper stock to approximate the look and feel of the original art itself.
ISBN: 978-1-89259-769-4
12″ x 17″, 248 pages
$125 USD
Order Online: eBay
As with all AE format material (Artist's Editions, Artifact Editions, Gallery Editions, Art Editions, Studio Editions, etc), this is a collection of classic comic material and I'll be reviewing the book and not the story. For a complete list of all current and announced editions, with review links, please visit our Index. Also, see What is an Artist's Edition and our Artist Index.
The first and last issues of Strangers In Paradise presented in their entirety, along with a selection of pages from every issue in between. It's an arching overall look at ninety issues, much like The Sandman Gallery Edition. Also included are a gallery of covers and images, and it all opens with an introduction by Moore and closes with a one-page biography.
It was great to see many issues represented with multiple pages, giving a better sense of story. The variety of pages present many different visual techniques and changes for Moore; not style changes but experiments in visual storytelling.
Amongst the first issue are overlays showing reduced pages with the notation "Published pages from SIP Vol. 1, #1 (not scanned from original art)". There's no indication of why these are here in the colophon or introduction, but I did learn from Terry Moore at Baltimore Comic*Con that after landing a publishing deal he wasn't as confident in his artwork and went back and reworked a lot of the first issue. Thus Graphitti presented the published pages for comparison.
While the material seems to come from a variety of sources the scan quality is excellent and consistent. Blacks show gradients throughout. A good amount of blue pencil used, but few margin notes outside of issue and page. Corrections look to be handled by paste-ups with very little visible correction fluid.
Another classic design extension based on the established template. Love the mid-page information tab; while it does cover a small amount of art page the borders are empty so we lose nothing and gain instant source information. The two colours from the cover move throughout the volume. It's nice to see different images for the frontispiece and title page. All these additional pages make great use of clear, well-chosen enlarged images.
A sewn binding of thick matte paper stock. Most pages lay flat when the center is smoothed, saved for where the signatures are glued. The book comes shrinkwrapped in a cardboard case with a small black and white sticker showing the cover image, UPC and price.
Another excellent edition from Graphitti Designs, this time working with Abstract Studios. It's still a Graphitti product; when I spoke with Moore he said he had no input in the book, just providing the artwork he had. And the first time the limited edition was not available from Graphitti and didn't come slipcased.
When the solicitation came out I was concerned it would be two full issues and a single page from every issue in between. Instead, we received pages or scenes from select issues representing the series as a whole. It was a great approach to the material, but I wonder if we as readers would have been better served with eight to nine complete issues.
---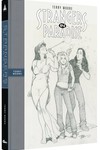 Terry Moore Strangers in Paradise Gallery Edition
from Things From Another World