Stephen King's The Lawnmower Man is a classic short story that was the basis for a hit motion picture. But, more importantly, it was adapted for comics by King himself, and drawn by legendary comics artist Walter Simonson. Only published once, in a rare Marvel magazine, this is the first time since 1981 that The Lawnmower Man has been available to comic readers. Printed to the exacting standards of all Artist's Editions, this portfolio is a must-have item for Simonson and King fans alike!
As with all AE format material (Artist's Editions, Artifact Editions, Gallery Editions, Art Editions, Studio Editions, etc.), this is a collection of classic comic material and I'll be reviewing the book and not the story. For a complete list of all current and announced editions, with review links, please visit our Index. Also, see What is an Artist's Edition and our Artist Index.
The complete adaptation of Stephen King's short story, including the cover. Simonson continues to be a goldmine of original art, this time from Marvel's Bizarre Adventures magazine. This shines as an example of how an artist does a black and white story.
Scan quality is excellent: all pages are sharp and clear. The pages have aged well, light tan to yellowing on the edges. Oddly page 11 is much darker than the rest. Correction fluid used on most pages, fixing dialogue and art, and as a medium on the first page. Margin notes are bits of the story in light pencil. There's not a lot of blacks used but what is there shows some gradients. Ink wash throughout.
Production is the usual IDW excellence. Thick matte paper in a cardboard portfolio cover. The same design scheme as the majority of IDW Artist's Edition portfolios, this time with a green cover and yellow and red accents. Oddly similar to Michael Golden's G.I. Joe Yearbook Artist's Edition Portfolio, only swapping one of the accent colours. To be fair the green is a different shade. No notice of original art on the back of the plates.
I have an issue with the plate pouch. Overall this portfolio cover cracks and creaks when opened, but the corner has also cracked open. I bought this used so perhaps it was kept in a dry environment.
This is the only IDW portfolio to provide the numbering we've come to expect in the books, Artist's Edition Portfolio #5. Very odd to start at #5 and not continue it with future portfolios. The books have an odd history of numbering as well, but that started in 2014 and has continued to this day.
This portfolio is still in stock at IDW and Diamond, and so readily available from online and local comic shops.
---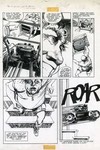 Walter Simonsons Lawnmower Man Artist's Ed Portfolio HC
from Things From Another World