IDW, in cooperation with MARVEL Comics, proudly presents WALTER SIMONSON'S THE MIGHTY THOR: ARTIST'S EDITION, collecting seven complete issues of Simonson's Transcendent run on The Mighty Thor, including the groundbreaking first arc that introduced Beta Ray Bill. Each page is scanned from the original art, the same size as drawn, and in full colour (to ensure the best possible reproduction).
IDW Publications, August 3, 2011
ISBN: 978-161377-038-2
12″ x 17″, 176 pages
$100 USD
As with all AE format material (Artist's Editions, Artifact Editions, Gallery Editions, Art Editions, Studio Editions, etc.), this is a collection of classic comic material and I'll be reviewing the book and not the story. For a complete list of all current and announced editions, with review links, please visit our Index. Also, see What is an Artist's Edition and our Artist Index.
IDW's second Artist's Edition, following a year after Dave Stevens' Rocketeer. Walter Simonson's run on Thor is one most comic fans of the period are rabid for, and this book is for them.
Two story arcs are included, Thor 337-340 and 360-362. The first is Beta Ray Bill's introduction and the second is Thor's ride to Hel. The book flows through each issue, cover and then story. All pages included are scanned from the original art.
Scans are clean and from a single source since Simonson kept his artwork as outlined in the About This Edition page. There is slight yellowing but it's mostly uniform. Correction fluid is present throughout, and blacks are solid with no visible gradient. Lettering corrections appear in blue pencil here and there, as do pasted word balloons; overall an excellent example of original production art.
Design is clean and minimal. Panels enlarged and used for the endpapers and title page, with the celtic border continuing from the cover onto the endpapers. The blue from the title carries through as well as a small unifying feature.
There are chapter dividers at the end of each issue designed by Dahlk for this book. They're well done and complement the material perfectly, blending the cover logo and panels from the issue.
Production is excellent. Sewn binding of thick paper stock that mostly sits flat. The book came shrinkwrapped in a cardboard case with an barcode and price sticker. This is the only Artist Edition that has a cover price, $100, even though they all have a net cost and this volume was $75, providing retailers a $25 profit minus Diamond's charge for oversized shipping.
The first print is long gone but a second printing, with a slightly altered cover and vellum overlay for issue 337's cover, is currently available from your local comic shop or IDW directly.
---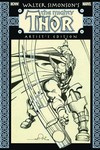 Walter Simonson Mighty Thor Artist Ed HC New Printing
from Things From Another World