Will Eisner's work on The Spirit was, in its way, as groundbreaking as Orson Welles' Citizen Kane. Both artistic achievements rewrote the book on sequential storytelling, and had lasting impacts on all that followed them. Volume two will contain stories from the same glorious post-war period of 1946 – 1950, along with some of the very best from Eisner's run. If you are a fan of the first book (or are kicking yourself for missing it), make sure you don't get caught short—it just doesn't get any better than this!
ISBN: 978-1-63140-146-6
15″ x 22″, 144 pages
$125 USD Suggested
As with all AE format material (Artist's Editions, Artifact Editions, Gallery Editions, Art Editions, Studio Editions, etc.), this is a collection of classic comic material and I'll be reviewing the book and not the story. For a complete list of all current and announced editions, with review links, please visit our Index. Also, see What is an Artist's Edition and our Artist Index.
Even better than its predecessor, Will Eisner's The Spirit Artist's Edition Volume 2 shows off stunning artwork at monstrous dimensions to delight and awe fans. A master of the medium visible in every panel.
Material seventy-plus years old should be hard to find, but die-hard Eisner fans must have a treasure trove of original pages because IDW has been able to put together another 144 page collection. It may help that all the stories are seven pages and hopefully easier to locate and assemble than the standard 22 page comic book.
The story material is varied and collects post war work. Included stories are: The Haunt, Silen Floss, Umbrella Handles, The Wedding, Plaster of Paris, A Slow Ship to Shanghai, The Visitor, A Pot of Gold, Now Deputy, Hamid Jebru, The Return, The Return of Red Vino, The Return of Autumn Mewes, Lonesome Cool, Sand Saref, Nickles Nerser, The Island. No extras in this volume: straight stories ending with a one page biography of Eisner.
Eisner's work is simply stunning: his work is so clean and detailed, a stark contrast to the various colour reprints we've been provided these past few decades. There were so many standout single panels it was hard to pick just four spreads to include for this review. The size of the pages allows for minute examination of detail that until now hasn't been available for this material.
The material has aged wonderfully and every page is clean and clear, with varying amounts of yellowing due age. Inks were deep and variations were visible on some pages. Staples and some bent paste ups made me realize the scans may be from a camera of book scanner that uses a camera instead of a traditional flatbed. Unfortunately we don't know how or who does the scanning.
Production is top shelf as always. The sewn binding seemed especially tight on this volume, resulting in a significant number of pages not able to lay flat. With a book this large you need flat pages: it gets unwieldy to lift the book, flatten the page and try to drink in all the Eisner goodness. The four images included move from front to back and none of them lay flat.
My copy arrived in the cardboard shipping box but the book wasn't shrinkwrapped and looks to have had significant exposure to humidity. I put it under some weight (other Artist's Editions) in my home and after a few days it mostly flattened out. Not sure why some books are shrinkwrapped and others aren't, but it would certainly help with humidity and warped covers and pages.
Design is by Randall Dahlk, who does most of the artist's editions. Each chapter divider features a quote from Eisner about the following story. It's a great touch to a well designed and executed volume. Here's what Dahlk had to say:
Will had created such cinematic staging and lighting that he made my job very easy. I chose again to have flat color and sharp contrast lighting to enhance the drama that was already there. I was basically hanging the curtains in the house he had designed and built!
It can't be stressed enough that Eisner fans should run to the nearest store and buy this book. Fans of the medium can walk, but should still pick it up.
---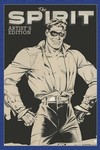 Will Eisner Spirit Artist Ed HC Vol. 02
from Things From Another World