The Apex Edition is a full-size reproduction of the original artwork from Grant Morrison and Steve Yeowell's seminal superhero story from the late 1980s. Carefully hidden away by Yeowell for almost 30 years and curated by 2000 AD's design team, the Apex Edition will be the closest readers can get to holding the original artwork in your hands – right down to seeing faded speech balloons pasted to the surface, editorial and design marks, and Yeowell's brush and pen strokes.
ISBN: 978-1-78108-397-0
15″ x 19″
112 pages
$125 USD
As with all AE format material (Artist's Editions, Artifact Editions, Gallery Editions, Art Editions, Studio Editions, etc.), this is a collection of classic comic material and I'll be reviewing the book and not the story. For a complete list of all current and announced editions, with review links, please visit our Index. Also, see What is an Artist's Edition and our Artist Index.
Rebellion's first foray into original art size books, Zenith Phase One Apex Edition offers up a rare treat for fans and collectors. They've put a good amount of focus on Zenith: first with a limited edition hardcover collection, then the five volumes in new trades, and now an Apex Edition. This volume collects the first chapter of the Zenith story, or Phase One, along with two Interludes and a bonus gallery.
It appears 1000 copies were printed, with 200 being sold exclusively through their web store with signed and numbered bookplates included. The remaining 800 were sold with signed bookplates through Diamond, one of which we're looking at today.
Having the benefit of seeing various other publisher's efforts in this format, Rebellion has presented a well executed product with some unique enhancements to the format. The most striking of these are notes from the artist along the tops of pages. They provide insight into production, background characters, and missing dialogue. It's an extra step behind the Wizard's curtain: not only do we have the original art boards at full size but we also have snippets about the pages.
The paper is something different as well, not as heavy a stock as we're used to but with a slight texture. At first read it appears to have a tan colour to it, but that's from the scans of the art itself.
Production is mostly well done. It's a sewn binding, but with the signatures stitched and glued without any cloth backing or headband. The spine has a lot of give which may prove to be trouble after a few reads.
All put one page is from the original art. Two pages are coloured, and there's an margin note explaining why for both. I won't spoil it for you.
The design is understated and clean, yellow and black endpapers and blue and black interiors and dividers, using silhouettes of Zenith and the logo. Very clean and unobtrusive. I especially enjoyed the box design.
The bonus gallery is a wonderful cross section of ancillary material. Some colour covers, letters from the creators, and pages from other Phases. Those seem to mark this as the only Zenith Apex Edition we'll see, even though Yeowell has all the original art. Let's hope sales prompt future volumes.
At 112 pages it's a bit thin for the $125 USD price tag, but a solid buy for fans and art admirers alike.
---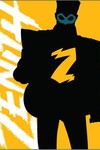 Zenith HC Phase One Apex Ed
from Things From Another World