Diamond has updated Previewsworld with the May 2019 catalogue, for items shipping August 2019 or later. Scouring the full list this month shows one new Artist's Edition format book. Sort of; see bolded details below.
For complete details and daily updates on upcoming volumes visit our AE Index.
Ditko Is…Amazing! King-Size
Steve Ditko is one of the most influential creative minds in popular culture. Steve Ditko is a one-of-a-kind visionary. Steve Ditko is the co-creator of Marvel icons including Spider-Man and Doctor Strange. Steve Ditko is…amazing! Now, Marvel proudly presents Ditko's incomparable AMAZING SPIDER-MAN work in our massive King-Size format. From Spidey's debut to the first appearances of villains such as Mysterio and Doctor Octopus, it's like experiencing these classics for the very first time! Ditko's Spider-Man adventures – including the Master Planner saga, an epic considered by many to be the greatest Spidey story – defined the spirit of a hero who has inspired millions. Also featuring a host of bonus material, including Ditko's original AMAZING FANTASY #15 artwork! Collecting AMAZING SPIDER-MAN (1963) #3, #11-13, #24, #31-33 and ANNUAL #1-2; and material from AMAZING FANTASY (1962) #15.
---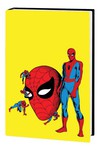 Ditko Is Amazing King-Size HC
from Things From Another World