Diamond has updated Previews World with the January 2018 catalog. Scouring the full list this month shows two new Artist's Edition format books. For complete details and daily updates visit our AE Index.
Lone Wolf & Cub Gallery Edition
Kazuo Koike's samurai epic is a tour de force of graphic fiction, and Lone Wolf and Cub Gallery Edition features selections of the late Goseki Kojima's spectacular illustration reproduced at original size on heavy-stock art paper to preserve the work in detail as it exists today, as close as one can come to owning these rarest of artworks. Including in its entirety the final titanic clash between Ōgami Ittō and Yagyū Retsudō. this deluxe volume is must for collectors and for enthusiasts of the finest comic art ever created.
Reproduced from high-resolution scans at original size from the original art created over forty years ago!
Accompanied by corresponding reproductions in English.
The Life and Times of Scrooge McDuck Volume 2 Artist's Edition
The second volume in Don Rosa's opus is presented in the award-winning Artist's edition format!
Critically acclaimed and internationally renowned storyteller Don Rosa continues his historic overview of the life of Scrooge McDuck. Taking Carl Barks' iconic character and presenting his entire life from humble beginnings to unimaginable riches was a herculean task, but one Don Rosa met head on. These stories are justifiably viewed as classics and earned Rosa the prestigious Eisner Award.
Now, with the full cooperation and assistance of Rosa, IDW Publishing is proud to present the second volume of The Life and Times of Scrooge McDuck. Included in this edition will be a cover gallery and a selection of Rosa's layouts done for these stories.
---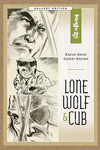 Lone Wolf and Cub Gallery Edition HC
from Things From Another World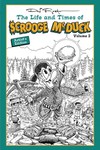 Don Rosa Life & Times of Scrooge McDuck Vol II Artist Edition HC
from Things From Another World