Diamond has updated Previewsworld with the August 2019 catalogue, for items shipping October 2019 or later. Scouring the full list this month shows two new Artist's Edition format books.
Fantagraphics Studio Edition: Ed Piskor
From Public Enemy to Professor X, this collection of scans of raw, un-retouched original art gives insight into the creative and drawing processes of the best-selling, award-winning Hip Hop Family Tree Tree/X-Men graphic novelist.
This career overview of one of comics' greatest creators collects raw, un-retouched original pages from the best-selling series Hip-Hop Family Tree and X-Men: Grand Design, and includes commercial art, designs for a line of Public Enemy action figures, and much more. It features over 150 pages of exact facsimiles of the artwork sitting on Piskor's drawing table, at the exact size created, scanned in full color to showcase every detail in the artist's process – from blue pencil, to Wite-Out, to swaths of deep, inky blacks. Each piece is annotated by Piskor personally. It's like sitting in the author's studio! A must-have book for students, educators, and collectors.
Star Wars Artisan Edition
In 1977, the same year the film was released, Marvel Comics launched Star Wars as a comic book. Adapted by Roy Thomas and Howard Chaykin, the comic series ignited the imaginations of countless readers across the globe, becoming part of the phenomenon that was spawned by George Lucas' smash-hit and record-breaking film!
The Star Wars Artisan Edition is an art book collecting more than 100 pages from the earliest stories, many from the first 10 issues, and each page has been painstakingly scanned from the original art. While appearing to be in black and white, the pages are printed in color, allowing the reader a rare glimpse of what original art looks like-complete with blue pencil notations, corrections, white-out-all the little nuances that make a page of original comic art unique. Besides Howard Chaykin, pages by comic legends Walter Simonson and Michael Golden are also included in this volume. As an added bonus, there is a beautiful foldout of Howard Chaykin's gorgeous Star Wars painting that was used to announce the film at the 1976 San Diego Comic Convention.
---

Fantagraphics Studio Ed HC Ed Piskor
from Things From Another World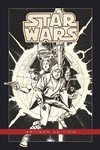 Star Wars Artisan Edition TPB
from Things From Another World