Diamond has updated Previews World with the September 2016 catalog. Scouring the full list this month show two new Artist Edition format books. both advanced solicited for January 2017 shipping. For complete details and daily updates visit our AE Index.
Deadman: Kelley Jones Gallery Edition
The unmistakable art of Kelley Jones sets the mood for two gothic thrillers in the new DEADMAN: KELLEY JONES GALLERY EDITION. Collecting Jones' artwork from DEADMAN: LOVE AFTER DEATH #1-2 and DEADMAN: EXORCISM #1-2, this Smythe-sewn hardcover edition is sourced from the original boards and showcases the boldly dramatic line art that established Jones' creative style prior to his work on Batman and other DC characters. Both tales were written by Mike Baron and first published in 1989 and 1992.
Graphitti Designs' Gallery Editions replicate the look, feel and attitude of the original artwork. Every page is reproduced at full board size on heavy paper stock to provide fans and collectors with museum-quality reproductions that are unobtainable from any other source.
Aerialist Boston Brand comes to (after)life as never before in these graceful, moody pages. Experience the glory of Kelley Jones' legendary DEADMAN artwork here in all its haunting beauty!
Publication Date: January 25, 2017
ISBN: 978-1-4012-????-?
Diamond Item Code: SEP160334
12″ x 17″
228 pages
$125 USD
Jack Kirby's Fantastic Four Artist's Edition
Jack Kirby's Fantastic Four. World-shattering events, cosmic calamities, and Kirby Krackle-does it get any better?
Jack Kirby is the most important creator in the history of comics, and the Fantastic Four is one of his greatest achievements. First published in 1961, the adventures of Mr. Fantastic, the Human Torch, the Invisible Girl and the ever-loving Thing introduced a bold new era in comics. Kirby's dynamic storytelling, coupled with Stan Lee's poignant writing style, were unlike anything comic book readers had seen before-it literally ushered in THE MARVEL AGE OF COMICS!
Now, with the cooperation of the Jack Kirby Estate and under license from Marvel Comics, IDW is proud to present the first Jack Kirby Fantastic Four Artist's Edition! Including Fantastic Four Annual #6, the 48-page groundbreaking story that featured the birth of Franklin Richards! Also presenting issues #82 and #83, guest starring the Inhumans-plus more stories and a beautiful gallery section of some of Kirby's most incredible pages, all scanned from the original art!
Publication Date: January 18, 2017
ISBN: 978-1-63140-831-1
Diamond Item Code: SEP160482
12″ x 17″
144 pages
$100 USD
---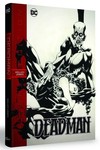 Deadman Kelley Jones Gallery Edition HC – $112.50
Retail Price: $125.00
You Save: $12.50
from: Things From Another World