No need for a preview: our review of Bernie Wrighton Artifact Edition is now available.
Courtesy of IDW and Diamond comes this preview of Bernie Wrightson's Artifact Edition, currently scheduled for an October 25th release. For a list of all Artist Edition style books, upcoming and published, please see our AE Index.
This books contains Wrightson's work from Swamp Thing, House Of Mystery, House Of Secrets, Metal Men, Kong, Plop, Unexpected, Witching Hour, Spectre, House Of Secrets, Batman: The Cult, DC Special Series, and more.
IDW Publishing, October 25 2017
ISBN: 978-1-68405-211-0 and 978-1-68405-207-3
Diamond Item Code: JUN170552 and JUN170553
12″ x 17″, 166 pages
$125 USD
---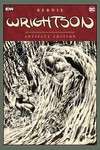 Bernie Wrightson Artifact Ed HC (Cover A) – $100.00
Retail Price: $125.00
You Save: $25.00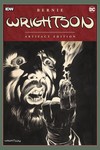 Bernie Wrightson Artifact Ed HC (Cover B) – $100.00
Retail Price: $125.00
You Save: $25.00