I'm late to the party here, but over at Print John Lind talks about Frank Miller's Sin City: The Hard Goodbye Curator's Collection. Here are highlights of the salient AE information. It's well worth a full reading.
With the editorial direction of the Curator's Collection series, I made a conscious effort to include additional essays and commentary. for context. They round out the experience and help solidify these books as mini "time capsules" of how these landmark graphic novels were created. This is something that wasn't really being included in other publishers' versions of this format. Being on the creative side myself, probably the best part of my job—which gives me the opportunity to work with great illustrators—is getting to hold their work and learn about their process. So, the core addition of interviews with living creators—specifically about creative process, and shown alongside images—moves this format a little more into "art book" territory for me. In the case of a deceased creator, the aim is to augment the work with essays by select creators or historians who were uniquely influenced by this material.
On the design side, I study the project's own aesthetic and try to augment—and not overwhelm—the content, while still creating something that feels new. The overall production value that Dark Horse has allowed for this series has been very high: a three-piece case with a printed cloth spine; additional UV on the front and back covers; and, in the case of Sin City, a 15″ x 21″ trim size. Our publisher, Mike Richardson, has been very understanding about the value of this series, and that's enabled the final projects to be presented with a certain aesthetic and feel worth the higher cost. And for that I'm grateful.
Granted, there probably is a saturation point in terms of merit and selections that should be deemed worthy of this format, but the format itself is very important for buyers—and the comics industry—to support. The high price point for these books is reflecting the costs going into production and printing. They're just expensive to produce, there's no way around it. That said, I think if you collect graphic novels or art books of this type, they are well worth it.
For a complete look at this book please read our review: Frank Miller's Sin City: The Hard Goodbye Curator's Collection.
---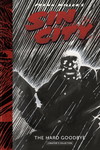 Frank Miller's Sin City: The Hard Goodbye Curator's Collection HC
from Things From Another World