Jack Kirby's epic story of Kamandi, The Last Boy on Earth continues! Collecting six consecutive complete issues (11-16) which includes the incredible story of Klikklak, the giant grasshopper! In a world full of talking animals, Kamandi struggles to make a life for himself as he searches for his fellow humans in a post-apocalyptic landscape! The raw power of Jack "King" Kirby is evident on every page in this gorgeous Artist's Edition. Plus, "The Hospital," the story of how the animals gained their intelligence!
ISBN: 978-1-63140-721-5
12″ x 17″, 144 pages
$100 USD
As with all AE format material (Artist's Editions, Artifact Editions, Gallery Editions, Art Editions, Studio Editions, etc.), this is a collection of classic comic material and I'll be reviewing the book and not the story. For a complete list of all current and announced editions, with review links, please visit our Index. Also, see What is an Artist's Edition and our Artist Index.
Six complete sequential issues of Kamandi; what a feat! The only two pages not scanned from original art are the covers to issues 12 and 13. With DC's breaking books into chapters we're treated to three splash pages per issue. Instead of grouping extras to follow the story pages this volume puts the covers at the beginning of each issue. Along with these six complete issues is an introduction by Eric Larson and closing out is a one page biography of Kirby.
Scans are all clear and clean. Pages show minimal aging, with colour from off white to light tan. Royer was the inker for these issues and all the blacks are uniform. Very few corrections outside of word balloons, with only book information in the margins.
Another stellar design by Randall Dahlk. The colour palette is so electrifying. Here are Dahlk's thoughts:
Since this is volume 2, there are design elements I wanted to carry over from the first volume. I liked the use of the warning/hazardous signs, so I used those again, but in a slightly different context. I also continued the use of the grit and stains. What else would you expect in an apocalyptic world? Everything needs to look like it's survived an atomic war. The color palette is a slight curve from the previous use of blue and red. It's familiar but not repeating. Over all, even though there is a sense of chaos, there is balance and rhythm with the colored blocks which help anchor the designs. The use of the white box always brings the focus back to Kamandi.
Production is excellent. Sewn binding of thick matte paper stock. The book lays mostly flat with gentle pressure on the binding. The book comes shrinkwrapped in a cardboard case with a small colour sticker showing cover and UPC.
IDW has changed the design of the cardboard case. Instead of the three flaps connecting to top, right and bottom there are now four smaller flaps, with two in the middle. The side cardboard bar doesn't stay in place with the cover is opened, but only time will tell is this design works better to keep the cover closed.
---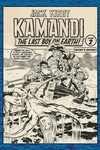 Jack Kirby Kamandi Artist Ed HC Vol. 02
from Things From Another World