The Jack Kirby New Gods: Artist's Edition will collect Issues 1, 2, 5, 6, 7, and 8 of NEW GODS—the most important Fourth World book. Written and drawn by Jack Kirby, with inks by Mike Royer on all but the first two issues, this classic collection was originally published by DC Comics and is the very first Artist's Edition to feature the legendary artistic prowess of "King Kirby!" Nearly every page of this Artist's Edition has been scanned from the original art, and is presented in the multi-award-winning format that was conceived and first presented by IDW Publishing! Jack Kirby has correctly been called the King of Comics. In a career that began in the Golden Age of Comics, Kirby virtually kick-started the medium. He created (or co-created): Captain America, Manhunter, The Newsboy Legion, The Fantastic Four, Challengers of the Unknown, The X-Men, The Incredible Hulk… the list goes on and on.
Now, for the first time ever, you can see Jack Kirby's stunning originals in all their full-sized glory—You think you've seen Jack Kirby's art before? You ain't seen nothing yet!
As with all AE format material (Artist's Editions, Artifact Editions, Gallery Editions, Art Editions, Studio Editions, etc.), this is a collection of classic comic material and I'll be reviewing the book and not the story. For a complete list of all current and announced editions, with review links, please visit our Index. Also, see What is an Artist's Edition and our Artist Index.
Finally Jack "King" Kirby is represented sumptuously in IDW's Artist's Edition series by way of his later DC work, New Gods.
For many fans this was the Artist's Edition most requested and anticipated. Jack Kirby did so much work in his life, but it's scattered. His run at DC with the New Gods line was later and it seems possible to collected, as evidenced by six of the first eight issues of New Gods. With the pace of the books missing issues three and four has little detriment to the readability of this volume: it flows well.
The pages are very clear, with varying degrees of yellowing. Only three pages in this volume are not original scans, and one page a recreation by Mike Royer. Like all Artist's Editions only fans are buying these, and I am a Kirby fan. I kept stopping and marveling at individual panels, drinking in all the detail and sheer "Kirbyness" of the characters. The inking is clean, and looking at the pencils in the gallery you can see Kirby indicated his shading effectively. Not much whiteout on these pages. Royer's inks stand out much better than Colletta's, comparing the first two issues with the final four.
Packaging and presentation are top-notch. Another successful design by Randy Dahlk, using images from the pages with a unique two colour scheme; very sharp and attention grabbing. Production is solid as always: thick paper stock, sewn binding, book lays flat so you can get to every nook and cranny. IDW has hit upon a successful formula and is sticking with it.
As with all Artist's Editions the book is divided into the comic pages and a gallery section. After the 150 pages of pages we're treated to 17 pages of covers, illustrations and more. Oddly there are four Jimmy Olsen covers and two pages from a Don Rickles Jimmy Olsen appearance. The highlights are two colour foldout illustrations: Lightray is stunning. Finally an afterword by Mike Royer and a Jack Kirby biography on the last page.
IDW announced a Jack Kirby Mr. Miracle Artist's Edition last month, another look into his DC run. Let's hope there's more to come.
---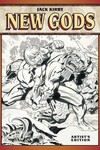 Jack Kirby New Gods Artists Ed HC
from Things From Another World