Michael Kaluta is one of the most revered and versatile artists in comics and illustration. He is frequently recognized as the definitive artist of The Shadow, has been praised for his Lord of the Rings paintings, and illustrated the Metropolis novel. He was also part of the legendary artist's collective (along with Jeff Jones, Barry Windsor-Smith, and Bernie Wrightson) known simply as THE STUDIO.
But if any project is closest to the artist's heart it would be Starstruck, an ongoing space-fantasy that began in the pages of Heavy Metal Magazine in 1982, was a Marvel Comics Graphic Novel in 1984, and several series' of comics from various publishers in the 1980s and '90s. Starstruck is still a work in progress and IDW Publishing will release a new series in early 2017, with expanded stories by Lee and Kaluta.
As with all AE format material (Artist's Editions, Artifact Editions, Gallery Editions, Art Editions, Studio Editions, etc.), this is a collection of classic comic material and I'll be reviewing the book and not the story. For a complete list of all current and announced editions, with review links, please visit our Index. Also, see What is an Artist's Edition and our Artist Index.
Collecting the first two full story arcs from Starstruck: a Marvel Graphic Novel and an Epic mini series. The table of contents lists that the graphic novel material first appeared in Heavy Metal, but no indication of what issues. As far as I can tell these are the original pages from Heavy Metal and do not include the three replacement pages from the Marvel graphic novel.
The pages are presented sequentially, with covers fit in before interior content. This creates a wonderful flow, but deviates from IDW's norm of a gallery after the interior pages. It does close out with a one page Kaluta biography.
All the original art is here, except for the title page of the first story arc. Ironically it was the art used for the preliminary cover. It's a wonderful collection of eclectic material. Paper sizes can vary within an issue, with most of the first story arc at the book's dimensions and then the second at a smaller size.
The scans seem to have some difficulty, with softness being a concern, leading to blurriness at a few points. As well there's a page where the pasted word balloon had folded over in storage and was scanned that way. Most blacks show gradients, with solid blacks in the final pages. No margin notes, but a surprising amount of pasted word balloons and replacement panels throughout. Great stuff.
The design by Randall Dahlk is intricate and a departure from previous Artist's Edition work. Very striking, with linear patterns over enlarged panel art. With no chapter dividers Dahlk's work leads us in and then out of the story, and accomplishes it with aplomb. It works well, save for the table of contents where the art looks blurry from over enlargement.
Production is IDW excellent. Sewn binding of thick matte paper stock. The colour pages are well done, as is the overlay for the graphic novel cover. The book comes in a cardboard case with small colour sticker showing cover and UPC. This is the first Artist's Edition with a set cover price but it isn't on the sticker. Oddly this volume is not shrinkwrapped in the case.
---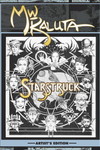 Michael WM Kaluta Starstruck Artist Ed HC
from Things From Another World