Reed Crandall was one of the greatest comic artists of the Golden Age. His work graced the covers and pages of National Comics (drawing the iconic Uncle Sam, as well as Blackhawk, Doll Man and many others). Legendary for his remarkable talents as a draftsman, he was the quintessential "Artist's Artist."
This Artist's Edition focuses on Crandall's remarkable EC Comics stories, including many that are outright classics. And like all the award-winning Artist's Editions, this book was scanned entirely from the original art—if you are a fan of Crandall's work, there IS NO better way to view it!
ISBN: 978-1-63140-894-6
15″ x 22″, 160 pages
$150 USD
Order online: eBay
As with all AE format material (Artist's Editions, Artifact Editions, Gallery Editions, Art Editions, Studio Editions, etc.), this is a collection of classic comic material and I'll be reviewing the book and not the story. For a complete list of all current and announced editions, with review links, please visit our Index. Also, see What is an Artist's Edition and our Artist Index.
Another EC Stories artist's edition, this time from the superb Reed Crandall. Twenty-two complete stories, two covers and a one page biography. The level of detail in some of the stories, such as The Firebug, is astounding. A masterful use of inks.
Scans are clear and detailed. No soft or blurry panels. Margin notes are just page and story numbers along with measurements. The comics code authority stamps are always fun. Blacks are uniform with no visible gradients. The pages have aged surprisingly well, with page colours from off white to mild yellowing.
Dahlk's design is clean and effective.The blue and yellow colour scheme pops throughout, along with the page layouts of boxes of colour and images. The enlarged images are well defined.
Production is excellent, as we've come to expect from IDW. Sewn binding of heavy matte paper. The book comes shrinkwrapped in a cardboard case with a small colour sticker showing cover and UPC.
Please Scott Dunbier, please continue to collect art and publish EC Stories artist's editions.
---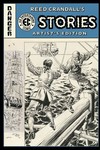 Reed Crandall EC Stories Artist Ed HC
from Things From Another World