EC Comics is arguably the finest line of comics ever produced. Whether it was science fiction or war, crime or horror, their entire line stood head and shoulders above the rest of the comics on the newsstands. Now IDW Publishing is pleased to present an Artist's Edition unlike any other, featuring the best stories by the brightest stars of EC Comics. Remember these classics? 50 Girls 50 by Al Williamson and Frank Frazetta, The Corpse on the Imjin by Harvey Kurtzman, The Flying Machine by Bernie Krigstein, Touch and Go by Johnny Craig, Judgment Day by Joe Orlando. All these plus more! And a stunning cover gallery crammed with glorious EC goodness!
As with all AE format material (Artist's Editions, Artifact Editions, Gallery Editions, Art Editions, Studio Editions, etc.), this is a collection of classic comic material and I'll be reviewing the book and not the story. For a complete list of all current and announced editions, with review links, please visit our Index. Also, see What is an Artist's Edition and our Artist Index.
Another stunning collection of rare and priceless original art from Scott Dunbier and IDW, The Best Of EC: Artist's Edition Volume 1 is worth it for the cover image alone. Everything else makes it the best EC collection to date.
I have a selection of the Russ Cochran EC Library hardcovers from the 1980s and I picked up a few of the Fantagraphics EC creator reprints. I thought I knew EC reprints from Gaines' files. Then I saw the solicited cover of this volume and put in my order at my local comic shop. When it arrived and I flipped through the book I realized everything I had seen before was a pale imitation of the original art.
This is IDW's third EC Artist's Edition, with dedicated volumes for Wally Wood and Jack Davis. Because of that we don't get any stories from those creators, but we are treated to Al Williamson, Alex Toth, Harvey Kurtzman, Bernie Krigstein, Joe Orlando and Johnny Craig. Choice for inclusion is defined by what complete stories are available, and this collection provides an excellent sampling of EC.
While it's amazing to read these stories in their original art board format, they're also at "twice up" size of 15×22 inches. The detail is stunning, and it becomes easy to forget you can read the stories and just ogle the artwork page after page. Or course there are many, many covers provided as well. After all, these are visual books first.
Included as endpapers is the above EC bullpen illustration by Marie Severin that covers just about everybody, and provides a perfect example of the detail and planning that went into this volume.
Randy Dahlk provides the layout and design, and as usual it's extremely well done. Above is the chapter divider for the Harvey Kurtzman section, using original EC art board, the artist's signature and a great image. Dahlk takes what is available and uses it to provide a seamless look and feel.
The Artist's Edition line is several years old now, and it seems IDW now has decent print runs on these books. The Best Of EC: Artist's Edition Vol 1 was released in July but it's still available from Diamond. If you're an EC fan then you need to run to your local comic shop and get your order in. Run!
---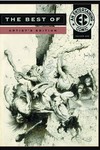 Best of EC Artist Edition HC
from Things From Another World