Diamond has updated Previews World with the November 2017 catalog. Scouring the full list this month shows two new Artist's Edition format books. For complete details and daily updates visit our AE Index.
Frank Cho's Savage Wolverine Artist's Edition
Frank Cho is a modern comic art master. Influenced by the great American illustrators (Like Franklin Booth and Joseph Clement Coll) and comic book artists (Frank Frazetta and Al Williamson, to name a few), Cho has incorporated these great talents and developed his own, unique style, one that has made him a fan-favorite sensation. This Artist's Edition collects the first five issues of The Savage Wolverine in all its glory. And, like all Artist's Editions, at full size of the original art. Fans of Cho will be mesmerized by his gorgeous art and intense action scenes-this will be an Artist's Edition you will treasure for years to come!
Will Eisner's A Contract With God Curator's Collection
Will Eisner's A Contract with God-one of the most influential graphic novels of all time-reproduced at 1:1 size from the original art! This deluxe slipcase, two-volume hardcover set contains full-size, full-color reproductions of Eisner's unpublished pencil layouts in one volume and his finished inked pages in the companion volume!
There is also a Limited Edition for $295.
---

Frank Cho Savage Wolverine Artist Edition HC
from: Things From Another World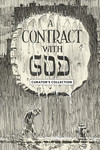 Will Eisner's A Contract with God Curator's Collection HC
from: Things From Another World