Following up on the best-selling, and soon-to-be-sold-out Volume 1, celebrate fantasy illustration's shining star with Frank Thorne's second Red Sonja Art Edition! The consummate She-Devil artist shares his original storyboards from the first six issues of the acclaimed 1977 Red Sonja comic book series. Scanned in high-resolution colour and printed at original size, this gorgeous hardcover collection preserves every detail of the artist's meticulous skill and hard work, while simultaneously presenting a complete storyline for all to enjoy.
As with all AE format material (Artist's Editions, Artifact Editions, Gallery Editions, Art Editions, Studio Editions, etc), this is a collection of classic comic material and I'll be reviewing the book and not the story. For a complete list of all current and announced editions, with review links, please visit our Index. Also, see What is an Artist's Edition and our Artist Index.
Following up the first volume comes this book with the first six issues of the Marvel Red Sonja series. The book includes an excellent lengthy introduction by Roy Thomas, the contents of the six issues, the covers and finally a map of The Hyborian Age of Red Sonja. A short biography of Frank Thorne is included opposite the table of contents.
There are twenty-two pages not from original art: twenty-one interior pages and one cover. That's a high percentage, but works for the completeness of story. The replacement pages appear to be black and white enlargements of the issue's published pages, and they suffer greatly from the enlargement.
The pages are mostly quite aged, with the bulk of pages dark tan to brown in colour. Thorne didn't use much correction fluid, and there are very few margin notes. The blacks are uniform, with an overall sense of clean work.
The issue with the book is scan quality. Far too many of the pages appear soft and slightly blurry, just as the first volume.
The design follows the lead of the first volume with that bright red in use and images in an orange red; it's a bit harsh but it works. Endpapers are the same, Thorne black and white character designs on a grey background, a recycle from the first volume. Oddly the title page appears at the front and back. In the covers section they have a small selection and one cover not from the original art. For completeness they included a cover not scanned from the original art in the covers section, but strangely that image was used for the cover. If there's a book full of original art why not choose any of that for the cover?
Production is excellent. Thick matte paper stock in a sewn binding. The book comes without shrinkwrap in a cardboard case, with a small black and white sticker of the cover, ISBN and barcode.
---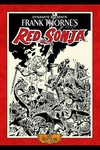 Frank Thorne Red Sonja Art Ed HC Vol. 02
from Things From Another World