The third and final volume in Dynamite Entertainment's Red Sonja Art Edition line dedicated to fantasy illustration's shining star, Frank Thorne! The defining She-Devil artist shares his original storyboards from issue #7 through #11 of the acclaimed 1970s Red Sonja comic book series. Scanned in high-resolution colour and printed at original size, this gorgeous hardcover collection preserves every detail of the artist's meticulous skill and hard work, while simultaneously presenting a complete storyline for all to enjoy.
As with all AE format material (Artist's Editions, Artifact Editions, Gallery Editions, Art Editions, Studio Editions, etc.), this is a collection of classic comic material and I'll be reviewing the book and not the story. For a complete list of all current and announced editions, with review links, please visit our Index. Also, see What is an Artist's Edition and our Artist Index.
Wrapping up Frank Thorne's Marvel run on Red Sonja with this third volume from Dynamite. We're presented with five issues and a cover gallery. A short biography of Thorne appears beside the table of contents, followed by a great introduction by Roy Thomas, and the book closes out with a map of The Hyborian Age of Red Sonja.
This is the shortest of the volumes at 104 pages; the first was 120 and the second 128. Of those pages fifteen are not from original art, instead shot from the comic pages and enlarged with colour removed. Their pixelated but the material is old and enlarging from a comic will do that.
The pages are the same as previous volumes; heavily aged with tan to a dark tan colouring. All scans are legible but seem to have a haze and slight blurriness; it really stands out when comparing to the missing pages which have clear text. Blacks are uniform throughout. No margin notes, just production stamps.
Johnson's design from the first volume has been carried through to this one as well. It's an eye-catching and vibrant look, and ties the three volumes together nicely. Endpapers and title page design remain the same, with new panel imagery used throughout.
Production is very good; sewn binding of thick matte paper stock. Most pages lay almost flat with a slight smoothing of the center.The book comes in a cardboard case with a black and white sticker showing cover image and UPC. I found the cardboard case didn't stay together and flopped open when moved.
---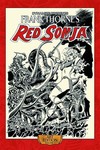 Frank Thorne Red Sonja Art Ed HC Vol. 03
from Things From Another World