Continuing IDW's yearlong celebration of the centennial of Jack "King" Kirby's birth! Jack Kirby's classic Fourth World Epic told the story of a group of New Gods sent to Earth to oppose Darkseid. Featuring Beautiful dreamer, Big Bear, Moonrider, and others, this was Kirby's take on super-powered flower children!
Included in this volume are issues 1, 4, 5, 6, and 7, with most pages scanned from the originals. Presented in IDW's award-winning Artist's Edition format—the next best thing to owning the original art!
As with all AE format material (Artist's Editions, Artifact Editions, Gallery Editions, Art Editions, Studio Editions, etc.), this is a collection of classic comic material and I'll be reviewing the book and not the story. For a complete list of all current and announced editions, with review links, please visit our Index. Also, see What is an Artist's Edition and our Artist Index.
All but seven pages are scanned from the original art. The splash pages from issues 1, 5 and 6 are cleaned up enlargements from the comics, along with four other pages from issue 1. It's so odd to see Al Plastino's Superman redraws throughout issue 1, but a nice piece of history. As well there's an even split of inks by Colletta and Royer so you can compare and contrast. While normally a fan of Royer the inks on issue 7 seem thin.
Along with the included full issues we're treated to a gallery section of covers and pages from issues 1, 4, 6-8, and 10-11. Plus a fold out that is not to be missed! Issue 10's cover with Deadman is outstanding. The book closes out with a one page biography of Kirby.
Five complete issues of Jack Kirby; what could be better? Six complete issues, which was how the book was initially solicited. An interesting conversation took place on Facebook regarding the missing issue 8 that was part of the solicitation.
Scott Dunbier Rob, I apologize for the omission of #8, that was an error on my part.

Scott Dunbier I have scans of a number of pages, and I had leads on others, but I over estimated my ability to track them down. Not a mistake I will make again.

Scott Dunbier Including them would have meant half the story would have been copies… I could not bring myself to do that.

Rob Walton No one is blaming you, Scott, least of all me, it just took a moment to re-adjust expectations. I just posted issue 8 for anyone who wanted to partake. It's amazing the original art exists at all, and it does make Erik Larson's point about collectors keeping issues intact.

Scott Dunbier Thanks, Rob, appreciate that. I'll definitely be more careful in the future.
Reproduction is superb. All scans are clear, with no softness or pixelation. You can see there were margin notes in blue pencil but most were cut off when the pages were trimmed at the printer. Very little gradient is visible in the inks. Minimal use of correction fluid; just touch ups here and there. Paste ups on the covers but none on the interior pages. Overall a nice look behind the curtain at the original art before printing.
Dahlk's design is a radical shift from anything else he's done for this line. Images have been taken and reduced to their raw lines and then applied to single colour textures. It's jarring and a dichotomy to the original art pages; sure to polarize options. I enjoy the look and feel of it in relation to the overall product.
Production is excellent; sewn binding of thick matte paper stock. The book comes shrinkwrapped in a cardboard case with a small colour sticker showing cover image and UPC. Even though these books from IDW now carry a MSRP no price shows on the packaging.
---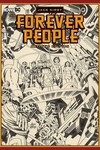 Jack Kirby Forever People Artist Ed HC
from Things From Another World