Sam Kieth has long been one of comics' most unique talents. Starting with his career-making turn on Wolverine in Marvel Comics Presents, followed by the best-selling Maxx series, and then Aliens, Batman, Epicurus the Sage, and more, Sam's beautiful and delicate line-work have earned him legions of devoted fans. But now is your chance to see his pages as close to the original art as possible—as if you were peering over his shoulder onto his drawing board!
This artist's edition will collect the first 6 issues of The Maxx and present a selection of gorgeous covers—all at their full size, all scanned from the original art, and all produced by the multiple Eisner Award-winning Artist's Edition team at IDW Publishing!
ISBN: 978-1-63140-479-5
12″ x 17″, 168 pages
$100 USD
Order Online: eBay
As with all AE format material (Artist's Editions, Artifact Editions, Gallery Editions, Art Editions, Studio Editions, etc.), this is a collection of classic comic material and I'll be reviewing the book and not the story. For a complete list of all current and announced editions, with review links, please visit our Index. Also, see What is an Artist's Edition and our Artist Index.
This felt like a blast from the 80s past. I know I read these issues when they hit the stands but I don't remember any of it. The pages give a raw look at Kieth and his early craft. Lots of experimentation, different styles and approaches to art and page layout, evolving issue to issue.
A first for a standard edition IDW Artist Edition, i.e. regular price, is a signature page signed by Kieth in pen. The image is a panel enlargement. The signature page was part of the initial solicitation but is not mentioned on IDW's website.
Contained within is The Maxx art from Darker Image 1-2 and The Maxx 1-6. All but five pages are scanned from the original art. There are no thanks for people providing art so we can guess it's all coming from Kieth. Unfortunately scan quality varies greatly, with a softness to a lot of pages, perhaps the most of any IDW edition.
The black levels looks good throughout, and with such a heavy ink presence the blacks are very uniform. Kieth played inks against correction fluid extensively with great effect. I never saw the Jeffrey Jones influence until now.
Colour plays a leading role in the finished product and as such reading these inked pages is difficult at times. The David Feiss sequence is all enlarged scratchy pencils that are hard to determine.
Design is minimal to say the least. With no gallery we have the purple cover, black chapter dividers, brown endpapers and yellow orange text boxes. Lots of enlarged panels on these pages. Unfortunately there's no credit for design so it's a guess who did it. I would speculate Kieth himself.
Production is to IDW standards. Tight stitched binding, but just loose enough to lay flat if you smooth out the pages along the stitching. This is the first Artist Edition I have that doesn't lay square when closed: the book has shifted to the right from the front over on an angle; I'm working on trying to correct it.
Packaged in a cardboard case with a colour retailing sticker. The book comes shrinkwrapped.
An introduction by Kieth sets the stage but there is no closing biography.
---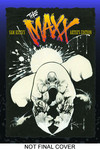 Sam Keith Maxx Artist Ed HC
from Things From Another World