EC Comics produced what is arguably the finest line of comics ever, and of all their titles, the horror books were the most popular. And the most acclaimed of the horror artists was Graham "Ghastly" Ingels, whose particular talents influenced and inspired several generations of artists, including the great Bernie Wrightson. This Artist's Edition will include a sampling of Ingels' best stories, and a selection of some of his most terrifying covers–this volume will make a worthy companion to the Wally Wood, Jack Davis and the Best Of EC editions!
As with all AE format material (Artist's Editions, Artifact Editions, Gallery Editions, Art Editions, Studio Editions, etc.), this is a collection of classic comic material and I'll be reviewing the book and not the story. For a complete list of all current and announced editions, with review links, please visit our Index. Also, see What is an Artist's Edition and our Artist Index.
Here is the sixth Artist's Edition of EC material, this time focusing on Graham Ingels. This one is all horror all the time, plus a little crime thrown in for good measure. Stories from Haunt of Fear, Tales from the Crypt, Vault of Horror, Crime Suspenstories and Terror Illustrated are included.
With the pace of these volumes coming from IDW assistant editors are being used, with Michael Benedetto working with Scott Dunbier. As well Scott Tipton is credited as proofreading, which is nice to see since the only original text in the volume is the one page biography and the index. Every book published, regardless of text length, needs proofreading.
In addition to the main group of stories and a cover gallery, for the first time we're treated to a splash section featuring Ingels' most famous creation The Old Witch.
Overall the scans are very clear; there are a few pages not quite sharp but they are very legible and do not detract. Black gradients can be seen on some pages but overall they are uniform. Aging varies greatly, from clean off white to heavily yellowed. Lots of editorial pencil marks for approvals, page numbers and such. Paste ups and white correction fluid get frequent play as well.
Design is considerably minimal. The blue-grey from the cover repeats in the tale of contents and bibliography but otherwise it's a black and white affair, with endpapers and chapter dividers utilizing panel enlargements quite cleverly. They're a bit soft or blurry depending on the page; not the usual Dahlk treatment.
Production is excellent. The sewn binding allows for most pages to lay flat.
Packaging is to IDW standards: the book came without shrinkwrap in a cardboard case. A colour sticker with book cover and ISBN number and barcode the only adornment.
---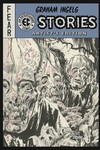 Graham Ingel Ec Stories Artist Ed HC
from Things From Another World