Features stories by Neil Gaiman and art by Sam Kieth, P. Craig Russell, Charles Vess, Kelley Jones and others. Highlights include the complete art from The Sandman #1, by Sam Kieth and Mike Dringenberg, and P. Craig Russell's complete art for The Sandman: The Dream Hunters graphic novel. This unique volume also includes numerous pages from The Sandman #2-75, as well as the complete six-page tale "Death: A Winter's Tale" from Vertigo: Winter's Edge #2, illustrated by Jeffrey Jones.
ISBN: 978-1-4012-5923-5
13″ x 20″, 272 pages
$175 USD
As with all AE format material (Artist's Editions, Artifact Editions, Gallery Editions, Art Editions, Studio Editions, etc.), this is a collection of classic comic material and I'll be reviewing the book and not the story. For a complete list of all current and announced editions, with review links, please visit our Index. Also, see What is an Artist's Edition and our Artist Index.
There is a lot of content contained in this book: a collection of everything Sandman, with three complete stories and a lot of pages. An Artist Edition and Artifact Edition in one, and all for a very reasonable price.
The three complete stories are: Sandman issue 1, Death: A Winter's Tale, and Sandman: The Dream Hunters, in its original four issue format. While they are complete stories Sandman issue 1 is missing 11 of its 44 pages of original art, and reproductions are included. Now that's 25% of the original pages missing, but on the flip side it's 75% of the original pages!
The other two stories are completely from original art. Sandman: The Dream Hunters was digitally lettered but P. Craig Russell wrote in all the text so he could properly lay out the pages. This makes for a completely legible read.
Pages 50-127 are dedicated to a page or two from Sandman issues 2-75 and Sandman Special 1. The pages from issues 10 and 13 are not from original art and are included just to say every issue is represented. It's an interesting look at the different artists and their styles as applied to this singular character. Each page has a label on the side indicating issue number and creative team. Occasionally they overlap the art slightly, but it's the best solution for presenting this amount of varying artists.
Scan quality is excellent and presents the material as it is, in the vast number of pages and their various stages of yellowing. Russell keeps his original art and his pages from Sandman: The Dream Hunters are clean and yellowing slightly. The rest are all over the place, but that's why one purchases these types of books.
Blacks play an important part in this series, and black levels in the scans are top-notch. Inks and their application are clearly visible. And in what seems to be a Graphitti Designs tradition art overlays are provided for several pages.
The dimensions seem to have been chosen to just fit Kieth's pages, with almost everything else having a decent sized white border.
Production is, as always from Graphitti Designs, outstanding. Beautifully thick paper and sewn binding with just enough give to let pages lay mostly flat.The book is shrink wrapped and in a cardboard case with a black and white sales and ISBN sticker.
Design is by Brainchild Studios/NYC and is very appealing. Purple is the theme colour and makes its way from the cover, through the index, along the page labels and out to the biography. Chapter dividers are blue grey and makes for a jarring change. All make excellent use of original art samples, including the endpapers.
The book closes out with a small Gallery selection of covers and a brief biography page of Gaiman, Kieth, Russell and Dringenberg. Overall an exceptional presentation of highly successful material.
---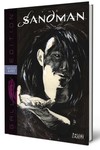 Sandman Gallery Ed HC
from Things From Another World