Diamond has updated Previews World with the August 2017 catalog. Scouring the full list this month shows three new Artist's Edition format books. For complete details and daily updates visit our AE Index.
Fantagraphics Studio Edition: Jaime Hernandez
Fantagraphics Studio Edition: Jaime Hernandez collects almost 200 pages of the raw, original art from the first fifty issues of the Love and Rockets comic book, including such classic stories as "The Death of Speedy," "Chester Square," and "Wigwam Bam." This book traces his evolution from his punk-poster beginnings to his current style and is indispensable for collectors, fans, and cartooning students alike.
Gene Colan's The Tomb Of Dracula Artist's Edition
Tomb of Dracula by Wolfman, Colan, and Palmer has long been considered one of the best Marvel Comics of the 1970s. Colan's atmospheric artwork was the perfect companion to Wolfman's dark and foreboding stories-together they formed a classic series.
This Artist's Edition collects five fantastic stories, plus an incredible gallery section.
Walter Simonson's Battlestar Galactica Art Edition
Walter Simonson's Battlestar Galactica Art Edition commemorates the master draftsman's senses-shattering work on the Battlestar Galactica comic book series published by Marvel Comics from 1979 to 1981. Truly, the adventures of brash pilots Apollo and Starbuck were never so epic as they were under Simonson's skillful hand, as demonstrated in this gorgeous hardcover collection. Scanned in high-resolution color and printed at original size, the Battlestar Galactica Art Edition preserves every detail of the artist's meticulous skill and hard work, interpreted from scripts by contributing writers Roger McKenzie, Steven Grant, Bill Mantlo, Bob Layton, and Simonson himself!
The Book Of Ballads, The Original Art Edition, Signed
This book was solicited in the May 2017 Previews, but now is available in a signed edition for $100.
---

Fantagraphics Studio Ed HC Jaime Hernandez
from: Things From Another World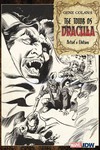 Gene Colan Tomb Of Dracula Artist Ed HC
from: Things From Another World

Walter Simonson Battlestar Galactica Art Ed HC
from: Things From Another World