The fate of Earth and Asgard hang in the Balance as Thor, Beta Ray Bill, and tons of guest-stars do battle Surtur and his horde of invading demons!
The second Thor Artist's Edition by the legendary comics' creator Walter Simonson! Featuring six complete issues of The Mighty Thor (#349 – 354). As with all Artist's Editions, each page of art scanned from the original art, in this case, from Simonson's personal archives. Simonson's first Thor Artist's edition won the prestigious Eisner Award and has gone through multiple printings, don't miss what promises to be an extraordinary book.
As with all AE format material (Artist's Editions, Artifact Editions, Gallery Editions, Art Editions, Studio Editions, etc.), this is a collection of classic comic material and I'll be reviewing the book and not the story. For a complete list of all current and announced editions, with review links, please visit our Index. Also, see What is an Artist's Edition and our Artist Index.
IDW's second Artist's Edition dedicated to Walter Simonson's Thor and Beta Ray Bill. When it's this good a second helping is just what we needed.
As Simonson keeps all his artwork, we've got a complete storyline with The Mighty Thor issues 349-354, including covers! Plus issue 380 that was inked by Sal Buscema with every page a splash. Also included is a small gallery section of various Thor and Beta Ray Bill illustrations. A complete package if there ever was one.
Scans are clean and clear; no softness or blurring. Small uses of correction fluid, along with a moved word balloon and an erased world balloon. Simonson's inks are consistently black, but Buscema's inks show gradients. No notes on the all Simonson issues, but he did neatly label and number the pages along the bottom. A small note in issue 380.
Dahlk has tied in this design with the previous volume, but with a brighter palette. The blue and orange (or is that yellow) work exceptionally well throughout. Dahlk has also created chapter breaks with panel art from the issue; a return to some of his classic Artist's Edition design.
The production is IDW excellence: thick matte paper stock in a sewn binding. Most pages lay flat when the center is smoothed. The book comes shrink-wrapped in a cardboard case with a small colour sticker showing the cover and UPC.
Finally, here is Scott Dunbier introducing this wonderful volume.
---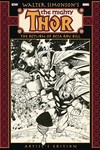 Walter Simonson Thor Return of Beta Ray Bill Artist Edition HC
from Things From Another World