Diamond has updated Previews World with the November 2016 catalog. Scouring the full list this month shows one new Artist Edition book, advance solicited for March 2017 shipping. For complete details and daily updates visit our AE Index.
Reed Crandall's EC Stories Artist's Edition
Reed Crandall was one of the greatest comic artists of the Golden Age. His work graced the covers and pages of National Comics (drawing the iconic Uncle Sam, as well as Blackhawk, Doll Man and many others). Legendary for his remarkable talents as a draftsman, he was the quintessential "Artist's Artist."
This Artist's Edition focuses on Crandall's remarkable EC Comics stories, including many that are outright classics. And like all the award-winning Artist's Editions, this book was scanned entirely from the original art—if you are a fan of Crandall's work, there IS NO better way to view it!
Publication Date: March 22, 2017
ISBN: 978-1-63140-894-6
Diamond Item Codes: NOV160509
15″ x 22″
144 pages
$150 USD
---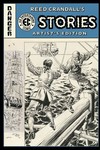 Reed Crandall EC Stories Artist Ed HC – $120.00
Retail Price: $150.00
You Save: $30.00
from: Things From Another World